This is a wiki post. You can contribute by editing using the green pencil symbol.
If you run into troubles with this guide please discuss in this topis.
---
Here is my step-by-step guide to install the Google Play store on a Open OS Fairphone 2. For my own reference and to help others.
This guide assumes you already have Fairphone Open OS installed. If not, read my guide on how to install it using Fastboot here. For other methods, consult code.fairphone.com and search the forum.
Step 1.
Make sure you have an internet connection and go the website opengapps.org on your Fairphone 2.
Step 2.
Choose platform ARM and Android 6 and Variant Pico.
Step 3.
Press the big red download button.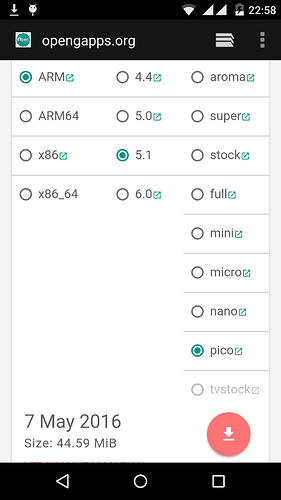 To install OpenGAPPS we need to use the TWRP recovery software. (Team Win Recovery Project).
TWRP is special software that allows you to make fundamental changes to your Fairphone 2. To use it you need to restart your Fairphone and start up in a special modus. (just like Fastboot, but then different.)
On many phones you'd first have to download and install TWRP, but luckily for us Fairphone included it in the Open version of their OS! ( IMPORTANT NOTE: This is not the case anymore, since latest Open OS update. They switched back to aosp because of some issues. I am unable to get the installation to work with adb, and currently don't own any sd-cards. If anyone can edit this to be current and correct, and i guess confirm that it works, that would be grand)
Boot your Fairphone into TWRP.
Disconnect your FP2 from your computer
Shutdown the FP2.
Press the 'Volume up' key an hold it while pressing the 'Power' key and then releasing the 'Volume up'
The Fairphone 2 should startup with a nice new screen with the Fairphone logo and LOADING TEAM WIN RECOVERY PROJECT written at the bottom.
If you do not see this, do the steps above again, or make sure you are really running the Open version of the Fairphone OS by checking in the settings.
Using TWRP
In the first screen choose to keep the system Read Only. This is safer and we do not need more to install OpenGAPPS. You should now see this screen, or something similar.
Choose Install in the top-left corner.
Navigate to your Downloads directory and select the open_gapps-arm-5.1-pico-xxxxx.zip file.
Important: Uncheck the Zip file signature verification
Swipe to Confirm Flash
A funky terminal like window will now open and at the end there should be the word Successful in blue in the middle of the screen.
Choose Reboot System to restart your Fairphone 2. This might take a while, so now is the time to run the toilet!
On reboot Android will optimize the Apps. ( I have no idea what it really does there, but it sounds like a good thing to do. Who is against optimization these days?)
If you now go to your apps, you should see the Playstore there!
NOTE: the Playstore does not work if you have location services enabled. So disable them to open the store.
I hope this helped you to get OpenGAPPS on your Fairphone 2. If you see mistakes, or have suggestions, please let me know and I'll update the manual.
(note: There are many reasons not to use Google, but I didn't want to discuss that here. I just wanted to help people who want to have the benefits of the Open OS of Fairphone and still need some Apps from the Playstore.)
Uninstalling OpenGApps
In case you want to get rid of the Google apps installed via OpenGApps, there might be a way to uninstall, as hinted at in the OpenGApps FAQ, via some "Advanced Features & Options", however, I (@codeling), haven't found out where this option can be found. The only working way I have found to remove the OpenGApps is to perform a full system re-installation as described here. Note that all data on the phone itself will be deleted in the process! A simple factory reset will not do the trick, since the Google Apps are installed to the system partition, which is not touched in a factory reset.