Hello,
I restored back-upped data yesterday (in the course of this problem here: Unable to install storage upgrader under Kola Nut 1.8.7) and encountered a number of problems. I thought it was better to start a new topic on this, to see if others have similar problems and solutions.
I backed-up everything possible with the back-up app (i.e. contacts, messages, photos, calendar, music, bookmarks and apps) and copied the other stuff directly to my computer. But:
the bookmarks are gone
music: all the playlists are gone (I haven't been able to check if the music is complete)
there are some photos on the FP, but when I go to the OpenCamera-app and the standard camera app I don't see the photos I took there
all contacts reappeared double / twice
all tasks are gone (duplicate of 6.) [RESOLVED]
ALL data in apps are gone
all preferences are gone (duplicate of 6.)
all icons on the FP windows are gone (background photo is gone as well) (duplicate of 6. --> the launcher (=FP OS homescreen) is an app)
the calendar and task categories are gone (duplicate of 6.) [RESOLVED]
all davdroid settings are gone (duplicate of 6.) [RESOLVED]
etc.etc.
update: calendar dates were also 2 times or more on FP1, solved this by deinstalling DAVdroid, reinstalling it and setting up the connection to posteo calendars again.
And when I now look at the restore-app it does not give me the possibility any more to back-up photos or music (no way to activate them):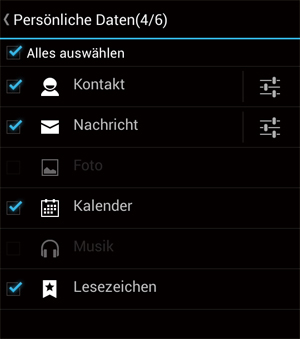 I now read in another thread that this app is problematic (Backup and Restore -- videos disappeared) so I think it would be good if there was a warning about this in every manual that asks you to do a back-up, or possibly even a recommendation? (what do you think, @Douwe?)
Also: are there any tricks to get some of the data back? to get the photos back into the photo apps? to reorganize playlists? and for the future: a better world no, I mean: a better back-up app (not from google-shop)
Thank you very much!
Edited by @Stefan to keep the list up to date.