Firstly, my sincere thanks to all FP3 contributors for there hard work on bringing LOS and other custom ROMs to FP3/3+.
It has just been a week since I switched from FP2 to FP3. Was very happy to know that @dk1978 and others have worked so hard to get LOS official on our device. The description in this and this was my real motivation to proceed further.
I started working on LOS 18.1 for FP3/FP3+ by keeping xiaomi's sdm632 common tree as reference which did not help much. Finally, yesterday I was able to succeed with a working build.
2 screenshots of the build: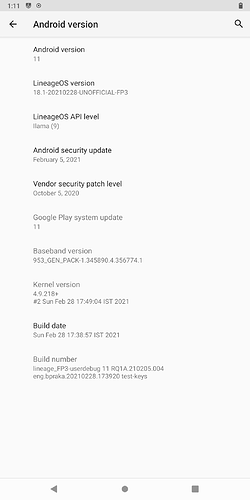 A summary on what's working, what's tested and what's not:
Working:
Boot
WiFi
Bluetooth
Camera
Radio(Network) - tested on single SIM
Data - tested on single SIM
Encryption(strange but device was encrypted when I had a first boot. Requires more testing)
LOS 17.1 to 18.1 upgrade(without any data loss)
Not working:
Minor fingerprint sensors issue.
Not tested:
If users can test and report more then we can edit this list later.
Here's the download link: AFH link
Updated link as of May 20th: AFH link
@dk1978 I have changes ready for review if you can permit me to upload.
This is the first build and I am very happy that we are able to get so much on the first build it self.
Really looking forward to all your feedback and suggestions.
Thanks,
TeamB58