Thanks! where is it? maybe i can join!
thanks! i will do that. my friend is a electrical engineer and will help me with that this weekend. i will let you know how it goes. fingers crossed!
these are exactly the symptoms i experienced with my fairphone 3. I have it 3 years now.
Have a second look
address (with map button) almost at the top in my link.
The same for me since a few days… The fp3 charges but very very slowly (18% → 45% in two days) but starting to 45% it charges normally (less than 1 hour).
I order a knew bottom module but I don't believe in a hardware problem…
Hi and welcome. I would tend to agree that it is probably not the bottom module. The chip that defines the charging rate is on the core module.
You could 'calibrate' the battery to ensure the charging algorithym has a grip on the here and now so to speak.
Calibration requires a full discharge and a full recharge, something you may not want to try.
So here's an update on how I "solved" my problem (thanks to @OldRoutard advice!:
After getting some isopropyl alcohol, some cotton buds and a suitable screwdriver, I opened the phone and cleaned all the contacts. Although the problem was apparently solved after that, there were a couple of weeks where the charging was still unreliable (it switched from slow to fast several times, and sometimes didn't recognise the charger); however, it charged much better than before the cleaning (as where at best it would only charge 15%/20% in 8 hours). Now, and for the last two weeks, it detects the charger and it is charging perfectly… let's see how long it lasts like this
P.S. I bought some covers for the USB-C port, to prevent any more dirt or moisture getting into the contact from now on. I hope this will extend its lifespan.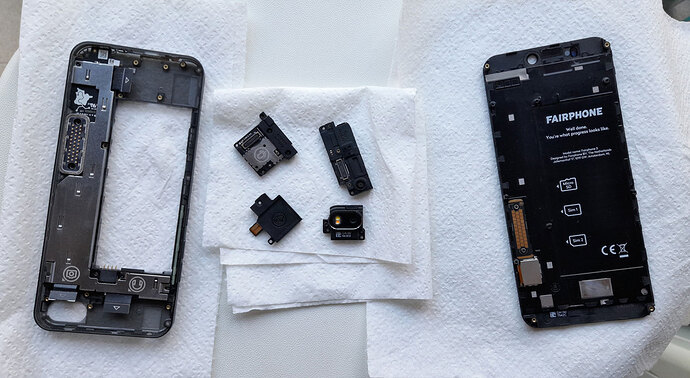 Parts of the phone drying after cleaning them

One of the main problems I had during this process is that, as I had to open the phone other several times, I have several stripped screws, and it was very difficult to open it. Do you know where I can buy the screws for the Fairphone 3? It would be ideal if they sold them in the FP shop.
By the way, a few days ago the screen wouldn't turn on properly when unlocked, it was at a much lower minimum brightness than the normal minimum brightness, and the screen was flickering. After fiddling with the phone and tightening it I managed to get the screen to work normally again, but this happened many times on that day… I hope it's nothing serious and it's simply because the screws are not too tight… but the truth is that I've had a few problems lately with my Fairphone 3

@Lena_Ka, have you been able to solve your problems by cleaning the port too? Or have you replaced it completely? I'm thinking of doing it if it fails again, but I'm afraid that I won't be able to open it because of the problem with the screws…
Here is a thread with the same topic and some hints:
Thanks for getting back with your news, and glad your phone is working again!
Thanks also for the hint about USB port covers
Hi there,
Cleaning my Fairphone 3 nor buying a new battery solved my charging problems. They started a few months ago by dropping the max. amount energy until my phone said: 1 procent energy do not unplug, your phairphone is charging, at which point a loop entered the phone: starting again, saying do not unplug, charging (but not really), starting again, etc. A new battery made it a bit better, charging went up to about 20-40 percent, but this weekend it dropped again tot the 1 percent level and the loop. So now? This is my second Fairphone, the first one lasted 2 years this one also. That's not how fair things should be, I guess. Hope that someone can give me back some positivity and belief in the concept with a solution!
Welcome to the forum
When that low the phone really has to be off as it charges very slowly and may drain quicker that it takes power, which can permanently damage the battery.
Where are you Eddy can you find a #fairphoneangel near you to test the batteries etc. ?
Again allowing the battery to drop to 1% is problematic and then the phone has to be turned off to charge safely ~ so it wouldn't loop and then die.
It can take many hours to recover from 1%
Thanks Amoun, but I have no influence on what happens: when my phone is unplugged I cannot do anything, so I cannot put it on or off, and when its plugged it gets in the loop immediately. I Iive in Utrecht, The Netherlands, where I cannot find a #fairphoneangel…
To ensure it is off, remove the battery for 10 seconds and then do not attempt to start the phone.
Plug in the charger then report back here as to what happens
Thanks
It gets back in the loop immediately…
Just to clarify the loop.
When I attach power to an 'off' phone i get
1 second and vibrate
1 second and the Fairphone logo
8 seconds and the battery indicator
How far do you get so what loops?
This topic was automatically closed 180 days after the last reply. New replies are no longer allowed.