Yes, I will let you know when it's available.
Do you like indimise?
Yeah, the customization option is great, the organic pattern is a must have

Hope the fp5 support will come really soon to order one for my phone.
Cool - just clicked a bit through the configurator.
A stylish comprise when you have a transparent edition!
Possibility to play around with pattern - the random net like one (high size and low thickness) and gradient e.g. to make the text on the battery ( "the change is in your hands" ) visible.

I like the indimise cases but found them a little vulnerable, they crack easily… Or do you use a different material now.?
Ordered one from Driworks in Portugal and in my opion, these are not only cute but also quite good quality for the money. Recommended.

Hallo
Ich habe mir heute das Bookstyle-Case von caseroxx bestellt.
Ich habe von der Firma auch schon das gleiche für mein CAT S61 und bin sehr zufrieden.
Wenn es eingetroffen ist, mache ich mal Bilder.
mfg
Is it just me or also somebody else:
When using the original case it slides off the phone very easy. Taking off the battery cover makes the case hold much better and actually th buttons and openings are now centered perfectly.
Is the original case designed to be used without the battery cover?
Hi and welcome. No its clearly not designed to be used without the backcover. Abover are already several comments, that the case is considered a design failure as its not really protecting the phone in case of falls.
But if intentionally or by accident the cover is meant to be used without the backside of the phone, it might reach over the display and protect it better.
I really love flipcases (so convenient to also carry credit card and cash) and was very unhappy that there doesn't seem to be any offers for my wonderful new FP5.
But - dear FP lovers - there is help: you can just order a flipcase for Samsung A33, in my case it is genuine leather from SURAZO on Ebay ~30€.
You just ripp off the protective case inside (plastic/silicon part) and glue the FP5 case on with superglue.
The FP5 case holds it very safely, there's no chance it will slip out.
I thought a band would come in handy, as I often wear dresses and they never have pockets. Also women trousers' pockets never provide enough room for a phone even with no case around it.
Well, in the end this was easy: just insert two eyelets in the right places and apply any off-the-shelf band. The little magnet lock will hold the top in its place when you carry it around.

Well there's also a minor downside: the opening for the camera doesn't fit 100%, see picture.
But I haven't notices and failures when taking photos.
So at last, enjoy your small compact handbag with all the most important stuff. You will not only protect your phone from accidents - also you will not lose it easily.
PS: the button on the picture is an extendable plug for a better hold (between fingers). It is another off-the-shelf accessory.
Hello @Daniela
welcome to the community. I love what you did to the case and I definitely agree that womens clothes are not always designed to carry modern smartphones:) I am also using the popsocket as I find FP5 definitely too big for my palm;-)
but there are some other flipcases for FP5 available, from some sellers on Amazon, from Anna Treurniet, from CaseOnline, or from Noreve, the latter though has been criticized on the forum for their take on FP4.
PS. I cant see any other flipcases with two holes for a lanyard though:)
Oooh, the other flipcases look beautiful, too!
Thanks for the tip Meaghan.
For some reason Google wasn't able to find them for me - and I had made a thorough and time consuming search, I daresay.
It would be great if we could promote those cases a bit more.
Although Surazo is a great manufacturer as well. Their case for my earlier mobile lasted much longer than the phone and looked never torn or old.


We should ask them to offer something for FP5, too
Hi,
I'm a new fairphone 5 user, i did had to change from my trusted oneplus 6 after 6 years of heavy use it started to give up, im still set about that.
I did use a OtterBox Commuter on it first.
Protection did fall, first year. Back glass dit braik inside the case.
After that i started using the much better looking Rhinoshield SolidSuit, and its still on the phone (accept of getting the same one new when the case broke)
Never broke the screen. And i drop it almost each day.
Now the Fairphone 5
At a different topic we already hade a conversation about tis but let's share it on te right location… …here.
Thank you @Meaghan.
I don't think i have to spend much time telling about the experience with the FP5 case (the green one I have). It does look great, That's all. Don't drop it. it will probably not have much effect on protection.
After asking al the wel known rugged case manufacturer's i dit found by email if they were making one for the Fairphone 5,(maybe if we all do that they wil stard developing one)
Not a rugged case manufacturer but gsmpunt.nl told my rosso is currently making bookcases for the Fairphone 5. The shop didn't know when they will be available.
I dit order a different case from Bol.com. on the website a bad looking Chinese case. only because it looks like on the pictures it have big rised edges, i did order it.
And i was surprised when i did reserve the case. It looks strong, feeling good. And isn't that ugly as expected. My opinion its actually looking really good.
I think its the same one as yvmuel posted here already.
And the included screen protector have a much better fit than the screen protector of Mobilize im using now.
It does have decent rised edges.
It does have a mounting point for a chord.
And i think the transparent case does look really great on the transparent fairphone.
Let me know what you think about it.
I dit found it here:
For anyone looking for a decent FP5 flip case, I finally managed to find one that I'm happy with, it came in the post this morning: https://www.amazon.co.uk/dp/B0CL1QCLB4
I've seen it from multiple sellers on Amazon, I've not been able to find it on AliExpress but it's a Chinese-made case so it's probably there too, somewhere.
Inside:

Outside: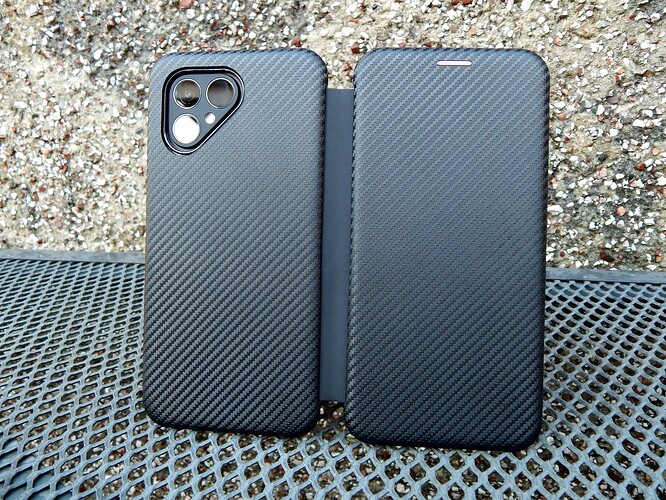 The part that holds the phone itself is pretty standard if you've seen any third-party flip cases for any phone, internally it's a shiny black plastic bumper case. It would've been nice if this was transparent TPU instead, but it's OK. The front and back shells are a hard carbon fiber effect plastic, a satin texture that isn't too slippery in the hand.
This isn't magnetically closed, but it does come together with a satisfying clunk; this is SO much better made than the cheaper fake leather/wood effect ones that I tried before. Because of the slight raised edge on both the top and bottom shell, the power button on the FP5 is more recessed in this case than on the others I've tried, I actually quite like this as before I was often unlocking my FP5 accidentally just when I picked it up due to the fingerprint reader being so sensitive.
The earpiece grill does work for calls when the case is closed, but does decrease the volume somewhat, so it will depend on background noise and your hearing if using it closed is sensible for you. As someone who has some hearing damage, I can see myself having to answer it open in some situations. The back does fold quite nicely under the phone, making the whole thing quite chunky in your hand, but not in any way slippery or hard to hold.
I've only been using it for a few hours, but I like it already, it really does feel like this offers some extra protection and isn't overkill on making the phone too bulky. Unless Fairphone eventually makes their own FP5 flip case, I'll probably be sticking with this one. If you're interested, it comes in black, blue, brown, green and red, all are this carbon fiber effect.
Hallo
Das neue Case ist da und passt sehr gut.
mfg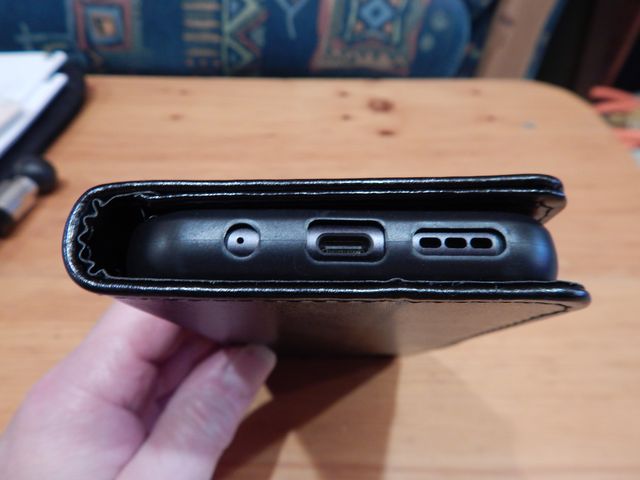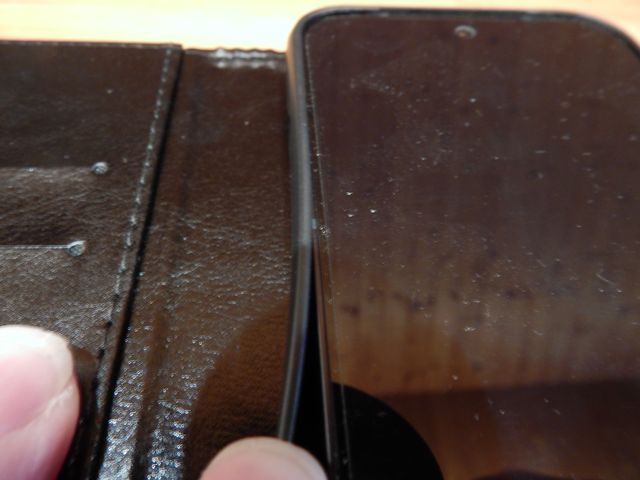 I'm a bit sad that the most interesting ones, from Bark Sweden, Biowaves and Indimise still aren't available for FP5.
But hey, my phone is protected by a no-name transparant case from Amazon so I can't complain too much.
Yesterday I did a big search based on all the links available in this thread (for F5 cases), and I also went through all Amazon results on its COM, UK, FR, DE, and ES domains, and I'd like to summarize it. I was interested in silicon and TPU sturdier cases, and I also like those with selfie rings (stand) because I very often try to lean the phone against something while listening to podcasts, watching videos, etc.
(Sorry for not including ALL the links as I am a new user, so I can't.)
I personally would appreciate something sturdy like the 'rugged case on Printables'. However, I tried to research how to get it made, but the options are limited where I live and I was unsure about the result etc…
I ended up ordering what seems to be the closest alternative from Amazon DE.
It's quite affordable and there are multiple colors available.
I saw a lot of silicon, translucent cases on Amazon and Bol(dot)com, but I ultimately decided not to get one because of comments about the cases turning yellow too soon, etc, which I'd be too conscious about.
There are some seemingly nice non-translucent (black) cases on casesonline(dot)com (with/without a selfie ring and with/without a pouch for a credit card). But they don't deliver to the Czech Republic where I live.
Lastly, I initially ordered this case from Amazon COM , but I ended up canceling the order because I wasn't sure about the card compartment and how the ring is attached to it.
I considered waiting for some other options like Indimise, Biowaves, and Bark. However, Indidmise current designs for other phones seem to leave the phone too vulnerable (exposing edges). Biowaves might be worth it, but I personally don't like the look. And the Bark wooden cases don't seem like a permanent enough solution to invest so much money in it + they also leave some edge exposed. (+I find it very strange that there are barely any frontal photos of any phone inside the case available.) There are of course some other cases and tons of flip cases that I have no experience with that I didn't go through…
I'll make an update when I see the case I actually ordered…
R.
I've just placed my order at BARK for a Fairphone 5 case in Elm. I'm excited to see how it turns out.
I'll return with a mini review/feedback here once I've tried it for a bit. For those curious the order confirmation mail said they aim to ship within 2 weeks.