They have you already showed us the settings with a Screenshot?
The whole theme engine ("monet") used to be a Pixel exclusive. Google open sourced it for A12L, but that's only the part that calculates the accent colors from a wallpaper and not the additional config options, that's separate.
Just because you can change something on a Pixel doesn't mean other Android devices have access to it, the Pixels usually have several exclusive features.
Google might not have made an updated wallpaper picker available to OEMs for devices on A12, it's hard to find clear sources on that.
All I know is that additional config options started to show up in CalyxOS (AOSP) with the A13 release, and the FP3 betas on A13 seem to have those options as well, which leads me to believe that this won't be solved before an A13 release.
The Pic in # 80 is Android 12 and this Pic is Android 12, too. Both budget phones, released 2020 and 2023, patchlevel april '23, one on kernel 5.4 one on 4.19. So even an older 4.19 kernel would not automatically mean that a settings applet can't be used. Not implementing it seems to be a FP decision.
(No device has an off- switch for this, unfortunately, unclear if Pixels had that, though.)
Android 12 oder 12L? Because it really seems it was available outside of Pixel Phones earliest with Android 12L and Fairphone OS is not based on 12L.
In that case I stand corrected.
I don't think we'll see an off switch for this any time soon, Google is pushing this hard with adaptive icons etc. (personally I'm all for it)
Do we know if the latest release didn't switch to A12L?


The update to L wasn't that big and I can't picture the devs spending time backporting / cherrypicking monet for A12.
Don't have a stock FPOS device handy right now, could someone check Settings → About phone → Android Version (does 12L even show up as a seperate version?)
Settings say 12…
And no I guess we dont know for sure if they switched to 12L thats the only that was said officially I think
I have to admit I had to search for the differences… The newer one of the two compared phones is Android 12, the older one I don't know for sure, assume it's 12, too, and FP is 12, too.
If that's meant for me- don't think so, vendor isn't on the list and the older one is Android One. If I remember right they had to be quite close to vanilla Android?
My vanilla, fully updated (April 5) FP4 states right now:
Android version: 12
Kernel: 4.19 157-perf+
Build number: FP4.SP28.B.065.20230420
Good to know
A12L wasn't a big update, but that's the point monet got added to AOSP, before that it was Pixel exclusive:
https://www.xda-developers.com/monet-engine-open-sourced-android-12l/
So it would be interesting to know what versions the phones you are referring to are running.
The missing piece here is, did they get the updated fully featured wallpaper picker because they upgraded to 12L, did they backport it?

I mean FP could just tell us if it's not incuded for technical or policy reasons, but we all know how likely it is to get that answer in time …
Answered already, I think? (I wrote "12" i the meaning of "not 12L":
Android one and price (140€) would let me think that there wasn't any backporting but I didn't check the visible differences for the older phone yet.
Newer phone is definitively Android 12 (not 12L)- just like FP4 with stock and latest update.
You wrote that there's no difference in how 12 and 12L display their version number, so unless I'm missing something, how do you know which version those 2 phones are running?

There are very small differences in user interface for 12 and 12L for example: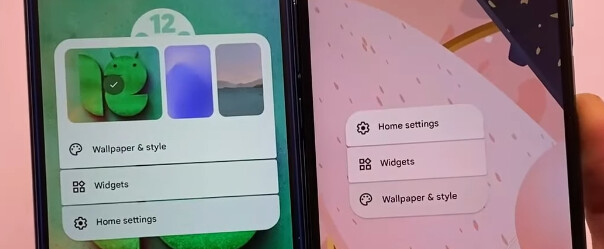 (12L has a switch to disable the double line clock)
(Pics from the yt link posted in #105, checked several sources and they're consistent regarding the differences)
Monet got added into Android12 with QPR3 (12 months ago)
https://android.googlesource.com/platform/frameworks/base/+/refs/heads/android12-qpr3-release/packages/SystemUI/monet/
Makes sense
Yeah, as I said …
… Google published the code of monet at the same time they released A12L (in March 2022), I don't get your point

Anyways, since your phones are clearly not running A12L but are using monet with additional options, there doesn't seem to be a limitation imposed by Google to only ship that with A12L. Thanks for confirming it
So this could all be on the FP4 as well, it just isn't
I just updated Fairphone 4, I noticed that the menu color is terrible,and different than before. How do I set the color myself, without changing the wallpaper?
Please change the UI theming color based on an average of the wallpaper color. I love my wallpaper selections, but I want to select the color used for my UI experience. The user should be able to opt in to this experience. Give the user the option to select the color from a color wheel as well. As it is, it makes my phone feel less like it is mine. Please change this. For the commenters saying that this is an upstream change to Android, yes and no. This is a change in upstream Android, but it gives the user the option to change the color chosen by default. This is located under Settings → Wallpaper & style. In FP4.SP28.B.065.20230420, we are provided with Wallpaper, but no style setting.
In upstream android, in Wallpaper & style, it gives extra options to choose different averages for the color sets used for the UI, but also another option is given. Users can select Basic Colors, which simply allows users to choose from a color set that will work with the Dark/Light themes.
Please give Fairphone users these options. I do not want some ugly calculated average. I want choice. That's a big reason I bought my Fairphone!
These are the examples of the stock android experience.
Default screens for Android
Hi and welcome.
First off this is a user forum you are not communicating with Fairphone, to do that open a support ticket from the main site or email them support@fairphone.com
Secondly this feature is a default Android 12 one and is not down to Fairphpone.
First off, I know this is a forum and what that means. I did submit a support ticket and I suggest everyone else who doesn't like this Fairphone software design implementation to do the same. There are many. I'm using all outlets.
Second off, I described in detail how Fairphone selected to implement certain aspects of the feature from Android 12 and not the whole feature.
Jeez the level of condescension.