"Still"? I think it wasn't broken last Monday…
Apparently it was just a temporary issue (or a technical problem on my side). Visible for me now.
I can see the map, but in the contact list below it the buttons "Contact 1 Angel" don't do anything (Firefox 109 on Windows)
Yes, I'd noticed the same problem on Monday, but have not yet further analyzed it…
I've just fixed it.
Hey everyone, I would like to become an angel and i'm in Montreal, Canada. I know fairphone is a european phone but there is still a good amount of people, like me, who loves the fairphone. So if it's possible I would like to join. I know a good amount about the hardware and the software, I've had a fp2 and now fp4, I know how to change the OS and currently looking into really learning about the hardware with this Physically add second sim
Thanks for the consideration
You are the second Angel in Canada then, great!
Just tagging @NGnius …
Welcome! Really close to me too, maybe we should meet up at some point.
Really I don't find any angel in north america on the map?
You have to zoom in on NA, since I'm the only one. And if you still can't find me, I'm in Ottawa.
Thanks @Atlantian for offering to participate as Fairphone Angel and welcome as a new Fairphone Angel!
I've added you to the according groups and started the "onboarding process".
I've sent you a pm with more details.
Does anybody know how many angels are watching over Fairphone users?
Sorry for the delayed response. Both Canadian sites are now visible on the angels map: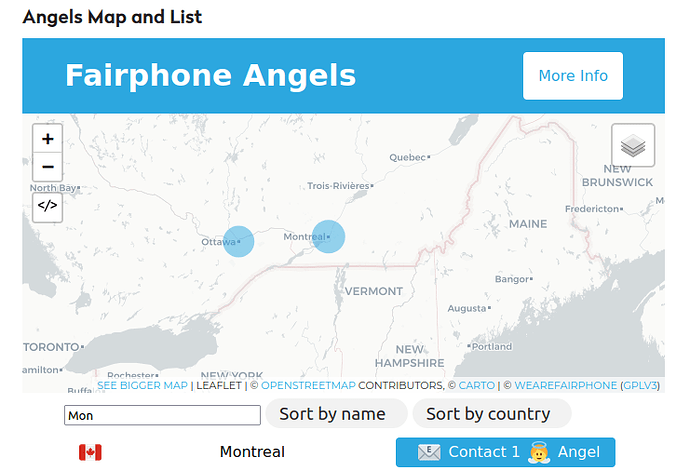 Site Montreal is now up and running.
If I recall it correctly, this has – at least in the map – increased the visibility of

Canadian Fairphone Angels a great deal. I seem to remember it took really a lot of zooming in before spotting the Ottawa blue circle while now the two are shown literally at first sight
If you need more Angels in Berlin, Germany, I offer my help as well.
I am an active maintainer of a number of Open Source projects (including projects for Android as well) and recently got a Fairphone 4. Eventhough the Fairphone as a "daily driver" is quite new to me I already know Fairphone and Android in general for many years.
I'm a native German speaker but also fluent in English.
Berlin (a.k.a. the Fairphone world capital in terms of number of users

) is probably the one Angel heaven that would benefit most from more Angels
Great Angel @schmulschubiak will surely welcome you
@askaaron Woohoo!
Let's meet and discuss all the details!
Thanks for your offer, sounds great!
I've added you to the general Angels and to the Berlin Angels groups.
Wonderful if you could team up with @schmulschubiak !
Hello,
I would like to join as Fairphone Angel in Nowy Dwór Mazowiecki, Poland
I can help local users with replacing parts, rooting, custom roms, degoogling, basically all things android