Does fp4 support those codecs? It supports Bluetooth 5.1, but it doesn't imply that aptX and aptX HD are enabled.
I own a FP4, how could I test that for you?
Here link with instructions. Thanks!
I contacted Fairphone support about this a while ago. They don't support them. They said they support AAC instead.
Here are the rest of the codecs (from Fairphone 4 - Sustainable. Long-lasting. Fair. | Fairphone)


I also asked Fairphone via twitter about bluetooth codecs, their answer was:
Bluetooth standard should support the SBC by default. As listed, Fairphone 4 also supports AAC.
As I have my Fairphone 4 now, I can confirm that it also supports LDAC (relevant for the Sony WH-1000XM3/4 users).
Unfortunately I don't own any devices with aptX or aptX HD, but I can confirm both AAC and LDAC support. If aptX was supported I suppose it would be 1. marketed and 2. listed here.
The chip that the FP4 uses supports aptX, so I guess that theoretically it's possible for the FP4 to have it enabled, but for some reason, FP has chosen to not enable it.
A license fee is probably the reason.
You literally just made my day. Confirmation of the hi-res codec (LDAC) was one of the very few items to check on my list still. Would you be able to share a screenshot?
Thanks so much.
t.
So then it´s settled…hitting the "buy" button any minute.


Thanks so much for the reply with the speed of light.
t.
True. Qualcomm wants extra licensing fees for aptX and Fairphone is not willing to pay those.
Best wishes,
Thomas
These have an easily replaced battery:
I can recommend them (I had them), the ANC is great, and they're quite cheap now as they're older and replaced by XM4 (which I have; they're only slightly better and worse in some regards).
Unfortunately, you won't be able to use features like LDAC or AptX (any) with a Fairphone 2 or 3. I don't know about Fairphone 4.
They're also not fairly made while the Fairbuds are at least more fairly made.
Everyone seems to be implying from various secondary sources that aptX isn't supported; it works just fine for me.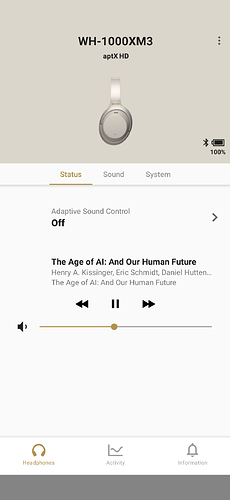 As @WiKo kindly confirmed a few posts above, LDAC works with their bigger brother on FP4.
Yes, it seems Fairphone did pay the licensing fees for FP4. But not FP3.
Fairphone themselves said they don't support it. It's also not listed on their website. So I think your app isn't showing you the actual use of the codec.
I cannot select any codec manually because they are not supported/available on my Fairphone.
Have you enabled the HD sound bluetooth profile for your headset? Are you certain your headset supports aptX in the first place?
Actually, the problem for me is that whenever I connect my headphones, they always default to aptX HD instead of the higher-fidelity LDAC; I'd expect Android to automatically pick the best available codec, which is how it worked on my old phone running Android 9 at any rate.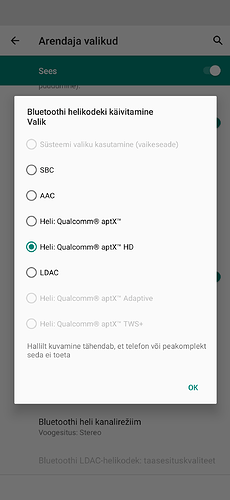 It looks like a kind of a mistake that I made too: not being able to select anything except the first entry seems to be expected when no BT device is connected. Once you connect BT headphones it will enable the codecs that both devices support.
Which in turns means, you can't check if the FP4 supports aptX this way if you don't have a counterpart at hand that definitely does support aptX.
Indeed, the FP4 supports AAC according to none other than the spec sheet, so the blanked out list is misleading for sure.