ohhhh thx
i also think that this is a bug
Is there a way we can donate to the project (the port)? I've been so happy with LOS that I feel a donation is appropriate.
Donate to the red cross.
Chris
Just to confirm the good job with this port for FP2:
I found more people using the adopted storage on standard Android (not Lineage OS) and having to restart their phones every few days for the storage to be found again.
So it seems to be a general issue to be fixed upstream on Android.
As my last nightly update was only 4 days after flashing Lineage OS and using this adoptable storage feature for the first time, the issue has most likely nothing to do with Lineage OS or this port for FP2.
Maybe it also depends on the SD card model. I'm using a 64 GB SanDisk Ultra Class 10 card.
If adopted storage refers to bundling SD cards as one device transparently, try a different SD card. Generally speaking I've had crap like that happening more often or solely on smartphones when it was cold outside.
Hi Paula, where did you find the tool? I can't find it?
Latest LOS Build
Thanks for helping…
Tobias
In the list of installed apps.
Ah, thanks I found it, but am I too stupid to open it to calibrate? I always get problems with the sensor using WhatsApp
OK, stupid me. I got it working.
Update installed via TWRP 3.1.1-2
The following things work for me so far:
call / be called
send SMS / receive SMS
internet via WiFi
internet via mobile network
location
compass
screenshot
main camera (new module)
selfie camera (new module)
USB connection to PC / MTP
alarm (incl. swiping it off)
root
For things that might not work there's a bugtracker.
So you're not stupid. You tried and you succeeded
I am unable to install LineageOs 14.1 official on my Fairphone 2 (Model n° FP2, Build n° FP2-gms-17.11.2 release-keys) using TWRP 3.1.1-2. Wipe done, factory reset tried, always the same error: "twrp can't install this package on top of incompatible data" Thanks everybody for your help.
Pierre
Lineage 20171128, opengapps-nano 20171127
I'm having some more battery useAge while using the phone. I have the impression that cpu runs on higher frequency and more cores are active. Phone also feels warmer. Anyone else also, or did i manage some misconfiguration?
Can't say I noticed anything in that direction, I have OpenGApps pico though.
But then again I accept certain battery usage when I actively use the phone and didn't optimize much, and I have a flip case around the phone, so I only notice warmth when I test calling functionality after an update, because then my ear feels it

…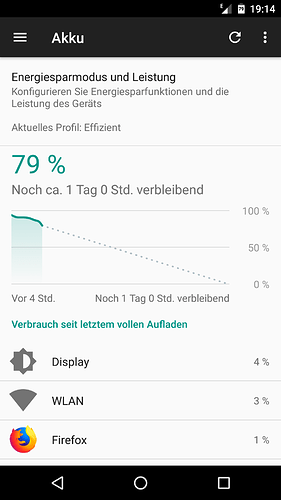 Also … be aware of the different performance profiles you can set …
I don't know where it came from, but even before updating and without running a special app I experienced yesterday a battery drop of 30 percent within maybe 20 min…
This topic has become a bucket for many different issues.
We encourage you to start a separate thread for each issue.