I would also like to know about that, focus distance seems to be akwardly high.
It's said but I have to admit that using this phone I had been looking forward to so much, is a frustrating activity. The poor performance (I'm not sure if it is performance when it doesn't work) of the camera is the main reason for this. For me the camera is a fundamental element of my phone. Up until now I haven't been able to take 1good picture or movie. When I decided to upgrade from my s3 (four year old phone) to a Fp2 I (obviously) never expected it to be such a downgrade. So please Fairphone fix it. I'll pay for a better sensor no problem. I really want this Fairphone mission to work as I truly believe in everything it stands for.
Tried this with my FP2 (and Open Camera):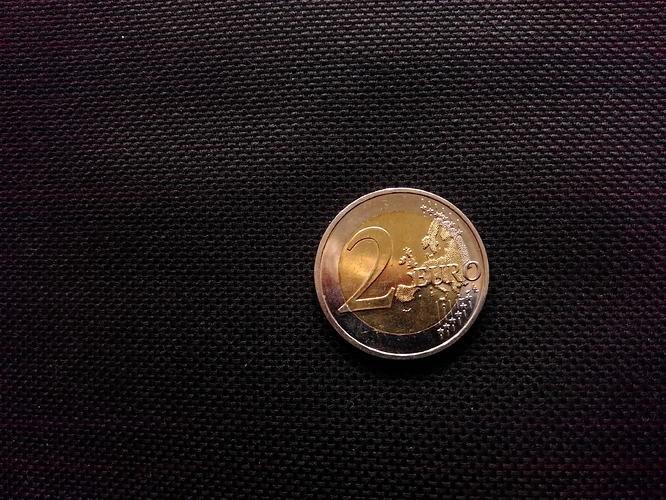 I think you should contact support. A FP2 that works as it should can focus.
Distance when taking the photo? I try to reproduce it with my fp2.
About 10cm, no flash, good light conditions near a window. I think I didn't use zoom.
Well … placed my FP2 bout 15 cm above the coin on a stable base to prevent motion blur.
and
… cough almost your result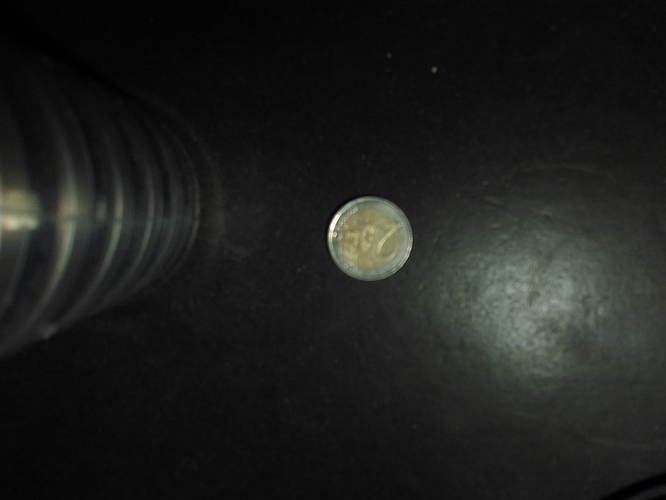 Also open camera, camera mx and other apps: same result. interesting occurence:

now with visible streaks. First time for me, but could reproduce it serveral times.
Camera obviously broken and I´m gonna contact support. (I dont like to stress the FP2 team with a replacement demand, especially as it maybe could be fixed with a software update, but as there is no official response to this thread - since over a month now … I want to take usable pictures and your picture of the coin looks pretty awesome!)
Thx all for information and I hereby declare the "2€ coin picture" as the official* "is my camera broken?"-indicator

*not official official. only inofficial official … you know
The problem I have: camera works just fine (also focus at close range), but when using the camera in the messenger-app, it does not seem able to focus, closely. Strange.
Distance ca. 5cm. For me it is ok. The first equipment caused the same bad results as for bfb, the spare part wich i recived probably is one of millions. I still cannot belive that it is a hardwareproblem.

So, yesterday I've received a new replacement camera module, swapped it and now the camera works as it should.
Before:

After: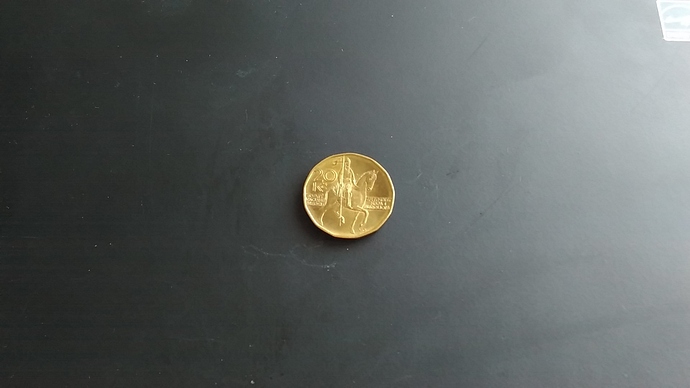 (I don't have Euros here, so had to use 20 CZK as reference, sorry

)
Quick shot from window: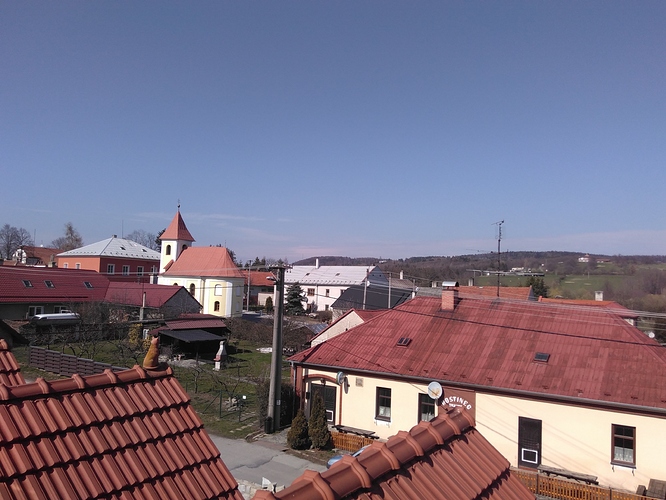 All pictures was taken with Sailfish OS and its default camera app.
Hallo,
i recieved my new camera Modul from the supporting cast. I fixed it in my fairphone 2 and now the camera is working without any problems. Now i'm happy
Still waiting for a support answer for about 2 weeks now.
For the record: the latest update did not solve the problem.
Did not assume it to solve the problem, tested it anyway.
Same to me, was definitely a hardware issue, latest software update did not fix that.
Edit: In my case the support answered after 3 working days, plus 3 days of shipment, very quickly, so i'm lucky with my new cam module…
same here. Waiting for answer, update did not solve it.
my cam doesn't focus either.
is there still no official statement from fairphone? like 'hey, we bought a faulty batch of camera's. e-mail us a blurry pic and we send you a working one.'?
I guess they're pretty busy but as you said, it would be nice to have some feedback on common issues. The bright spot problem also seems to be related to a batch of displays from december.
An official statement would be nice, of course they don't want to take bad press, cannot even blame them too much about that. I've opened a support ticket as well. If they don't respond in time you can always make some noise on Twitter/Facebook
My camera does not work properly from my point of view… I cannot scan a qr code or read any text… I tried to contact the support and hope the best!
After reading this topic and waiting for a reply on my ticket for a month and after calling the support line without an answer - I ordered a new camera part last thursday, paid it, got it yesterday, and now everything is fine. The first camera module was not able to focus, was just not working correctly. Now I am happy, even though I paid about 40 Euro for something that did not work from the beginning. So actually it should have been a warranty. But how long should I have waited??
just called them, and they were pretty cool about it. didn't act surprised that my cam don't focus, straight away told me it should be replaced, but that they're pretty out of stock. told me to go to KPN with it, cause they sold it to me and should handle my warranty…
KPN wants to send my whole phone to the repairshop. this would leave me phoneless for 2 weeks, while this thing was made to be repaired at home.
i'm gonna e-mail FP now…