Are the new T-Shirts there already? Or any idea when? Any preview of new and existing ones?
@werner_noebauer: do you have the answers for the pubquiz? I want to take part in it aswell, so I don't want to look for the answers before the Stuttgart Meetup.
I know that I made at least a file with the answers of the second page. But I can't find it… It's not on my laptop, not on my phone, not on my USB stick…
Is it possible to order a nicely printed brochure of the Smartphone Material Profiles? I would rather not print it at home because quality would very much suffer. Why not add it to the shop so that we can order it together with spare parts and accessory?
I can ask if we can have a stack of printed reports, so I can send copies to community events…
But faster would be to not print yourself, but take the PDF to your local copy-shop and ask for high-quality printing and choose some nice paper yourself
…and send you the bill?
A few more photos, both versions (boy left: "Supply Chain", girl right: "Exploded View") in S size: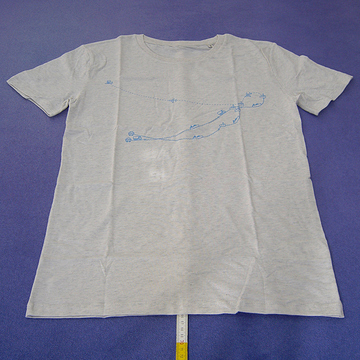 Just so you know: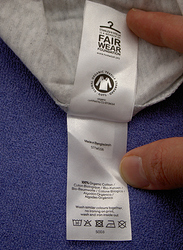 @Douwe Will the new "in a nutshell" Fairphone fact sheet (PDF, 370 KB) be available for Meetups in a
nicely
printed & stapled version?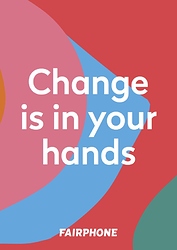 Pages 1, 6-7 from 16)
(Can also be downloaded from the "Background" section on https://www.fairphone.com/en/about/press/)
Cool that you found it! I added it to the list in the first post.
@Douwe It would still be nice to have an updated version of the two-page factsheet (2017) for b/w print outs. The 2018 version is not for home-printing, I guess.
There is a professionally printed A6 (10.5 cm x 14.8 cm) version, not as colourful as the PDF though (blue only) and so far in super-limited quantities (Fairphone could only send me the one pictured copy). I like it a lot, it's finally the appealing one-piece brochure I was hoping for to give to complete newbies and I really hope it becomes available in sufficient quantities soon.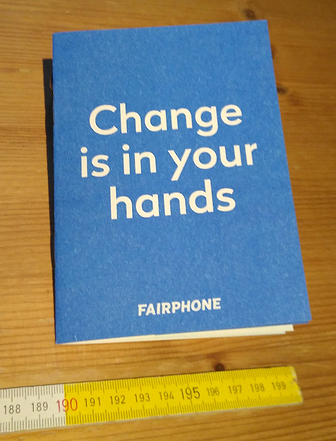 It's cheaper to only print in one colour if you have "company identity" colours such as Fairphone's blue (CMYK 70.17.0.0) and the other colour tones.
Otherwise the press would have to set up all colours individually. (At least that's what I learned this semestre in Geo Media Techniques.

)
This topic was automatically closed 182 days after the last reply. New replies are no longer allowed.
Recently renewed + improved, generously made possible by Fairphone HQ @formerFP.Com.Manager
and premiered at our August meetup and the September Fair, our local community table signs have returned to their show-off storage.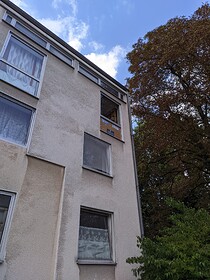 Admittedly not recognizable from a plane taking off from Maastricht-Aachen airport, but sufficient to have eventually resulted in (at least) one 2020 FP3 purchase from the opposite block

Stichwort Materialien (Fairphone hat anders als in der Vergangenheit fast nichts auf Lager, deshalb haben wir hier selbst aus Druckvorlagen von Fairphone in einem Printshop um die Ecke anfertigen lassen, u.a. eben die obigen Schilder):
Ages later …
@werner_noebauer (or any other of the Austrian Fairphoners) are you still in posession of this? If yes, I would be very interested in borrowing that for our local 19 August Fairtrade Fair booth.
Ich glaube der Banner ist bei @lucaweiss

Luca ist sich nicht sicher aber er hat vermutlich den Banner bei seinen Eltern. D.h. bitte @lucaweiss kontaktieren;)
The blue banner bearing the white FAIRPHONE logo (pictured below) is now in Aachen for our 19 August Fairtrade Fair booth. I've used the opportunity to check the measurements and added them in Werner's original offering (in short: 1 x 3 metres, more exactly: 98.5 x 295, FAIRPHONE logo on it appr. 30 x 222).
P.S.: It's still in great condition, very impressive