So, here is some news, which could be of interest to many of them here:
Have a beautiful day!!!
Installed Xposed yesterday on LineageOS without any problems via the Xposed Installer App. I chose Framework 88.1 and install via recovery. The phone restarted and installed the framework in TWRP automatically.
Installing of Gravitybox [N] and Rootcloak work, however I had my first (!!!) random reboot ever on LineageOS this morning.
I removed now Rootcloak (since it might not be up to date with Nougat).
Will test further and let you know about issues
I don't think that it is a good idea to use Gravitybox on LineageOS. From the release thread:
and
This is what happened after I installed Xposed (see battery screenshot). The only modules were Bubbleupnp and Greenify. But Greenify did not recognize the xposed framework.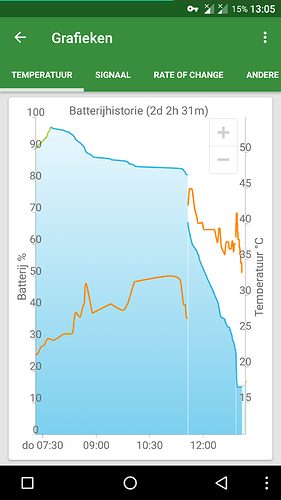 You see the reboot, and then the battery got hot, even with no data and max power saving.
Maybe it's a good idea to move the XPosed-for-LineageOS-Discussion to a separate thread (@paulakreuzer ?). Nobody will find it here.
But I think I already mentioned (some 100 posts ago…), that it's not the best idea to use XPosed and it's modules with Lineage. I filed a LineageOS Bug some time ago and they clearly excluded any support when using XPosed…
I have installed Xposed and I can't complain. I am happy to have Xposed.
However, I do not have GravityBox. This sentence, which I found in the description page of the GravityBox(N) module refrained me from installing GravityBox: "SHOULD NOT be used with custom ROMs like Lineage, AOSPA, or any other derivative- it makes no sense since most of the features are already in the ROM (may cause conflicts and unexpected behavior)"
The modules I use so far:
FakeGapps (for microg: I could not patch the signature with Tingle, so that is why I use this module, for signature spoofing)
RootCloak ( works fine so far)
This App will Run Without Google Play Services (for the App from my local football team)
Regarding battery life, I did not notice any difference. Battery life has been pretty poor ever since I started using Lineage. I have gotten used to it. I do not use Greenify. I have never been a fan of it.
Hope these lines are of help…
Have a beautiful day!
Cheers
has anyone installed it along with Magisk ?
I installed only magisk to hide root from my banking app. It works like a charm. But I have not tested it with Xposed, since I prefer the PrivacyGuard from LineageOS.
but Xposed moduls allows to do much more as what PrivacyGuard can do, not only in the sense of privacy and apps permission. I think of OS customization etc.
In particular it allows to run apps (e.g. Amplify ) what hopefully allows me to improve battery life
how to you hide root, to have an app switching root on/off such as iSu?
When I enable root in the Developer Options the banking app complains about the device being rooted. However with Magisk you can enable root for specific apps only.
I did the following:
Install latest version of MagiskManager.apk
Make Backup of boot partition with TWRP
In Magisk choose install and then patch boot image file
choose your TWRP backup of the boot image
Flash the new boot image (/storage/emulated/0/MagiskManager/patched_boot.img) with TWRP
In MagiskManager under Magisk Hide choose your banking app to hide root
you can still grant root access to all other apps like Amaze or TitanumBackup
thx for the tutuorial
what apps your are running as I've got
DKB-TAN2go what seems difficult to fool, it has his own
XDA thread.
I am only using TWINT, which keeps complaining about missing google service framework but works nonetheless.
I might try others in the future.
Would you mind to try DKB-TAN2go as it even doesn't start on my FP2.
Stuff like exposed is not supported on official lineage builds. This means you cannot file bug reports.
Chris
DKB-TAN2go does not work for me either…
thx for trying, what a pitty
hallo again,
another question is OTA working properly?
I asking as isn't that simple Fairphone OS
For me, OTA update of LineageOS works properly. But I'm not aware of Magisk things, I use plain LineageOS.
When you use Magisk you can't use LineageOS superuser binaries, can you?