I am selling my Fairphone 2.
It was bought in 02/16 in a german online shop and because of issues completely replaced by the distributor in 07/16 (new phone - new IMEI, as you can see in the documents). Since it had issues with ghost touches and white spots at the display it was refurbished by Fairphone in 01/18 and got a new display module.
In 02/2019 I replaced (bought new) the battery and bottom module, because of issues with the mouthpiece.
Since then it runned very well, just having some of the typical restarts during the charging procedure. Maybe that can be fixed with the Update?
It comes with the coral red and light blue slimcases, both are having a few cracks, but the phone is in a good condition.
I want to give away this perfect fitting sleeve as well, it is made just from cotton and paper-leather, so it's vegan and (machine) washable!
I can give away the defect bottom module as well.
It will be shipped from Hamburg - Germany (pickup possible)
I could install /e/OS for you if you are interested.
If you have any further questions, or need more pictures - let me know!
Kind regards
Dia
Hier verkaufe ich mein Fairphone 2.
Es wurde Feb. '16 gekauft bei Memolife (online shop) und von diesem bereits im Jul. '16 komplett ausgetauscht (neues Gerät - neue IMEI, ersichtlich in den Unterlagen). Im jan.'18 wurde es aufgrund von "ghost touches" und weißen Stellen auf dem Display von Fairphone überholt und das Displaymodul wurde ausgetauscht.
Im Feb. '19 habe ich den Akku und das Bottom Modul ausgetauscht, da es Probleme mit der Sprechmuschel gab.
Seit diesem Zeitpunkt läuft es gut, es startet sich lediglich während des Ladevorgangs gelegentlich neu, dieses Problem habe ich hier schon öfters gelesen. Vielleicht kann das auch mit dem Update behoben werden?
Mit dem Fairphone gebe ich eine coral-farbenes und eine hellblaues Slimcase ab. Beide Hülen sind an den Ecken etwas gebrochen, das Fairphone ist aber in einem guten Zustand.
Das perfekt sitzende sleeve gebe ich gerne mit ab. Es ist aus Baumwolle und Papierleder - vegan und waschbar sogar in der Maschine!
Defektes Bottom-Modul könnte ich mit abgeben.
Verschickt wird's aus Hamburg, oder kann gerne abgeholt werden.
Wenn gewünscht kann ich gerne /e/OS auf dem Fairphone installieren.
Bei weiteren Fragen oder Wunsch nach mehr Bildern bitte einfach bei mir melden!
Beste Grüße
Dia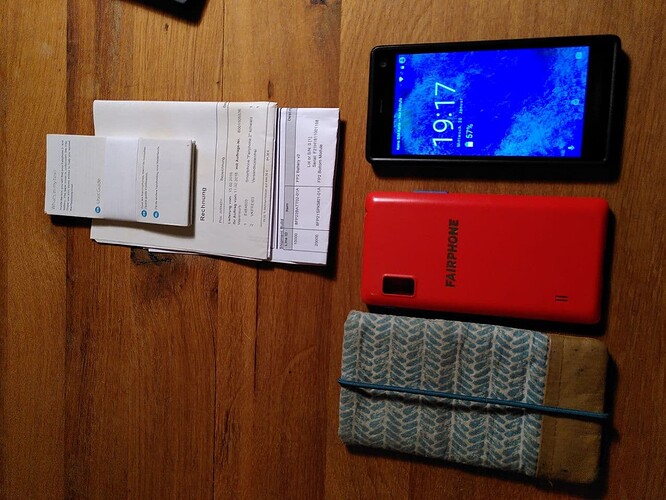 ---
NB: If you are interested and want to send a direct message, you will have to be a basic user on the forum. Reference about how to become one and other trust levels can be found here.
Be aware, that cross-border shipment of batteries outside a phone is virtually impossible for individuals.