3 days to go!! Are there any specific topics you would like to be discussed? Add them here…
Unfortunately, I had quite some contact with customer support… Would like to talk about our experiences with FP2
I would be interested in NFC-support and operating system stuff (amateur level)
@Douwe everything arrived safe and sound for the Stuttgart get together. Thanks.

Nice t-shirt design! Did you only receive blue print on white fabric, or also blue fabric t-shirts?
Each t-shirt came in it's own paper package - I didn't open all of them yet…
Would love to talk about the update (for some of us) and gender - I noticed a slight gender imbalance on the forum and would love to hear your thoughts. Otherwise I am also just very curious to get to know you guys, listen and record for my MA, if you don't mind.
Oh, and a t-shirt
I'll try and get Android 6 on an SD-Card, so we can update it together…
Is it available for FP Open yet?
in May Fairphone Open will move to Android 6.
For some reason I thought the meeting would be today - It is tomorrow, correct?
Have fun and make some pictures!
So how did the meetup go?
Yesterady we had the 2nd Stuttgart Meeting. We had a broad Spektrum of participants: FP1 and FP2 owners - and not-yet-FP-owners.

We were 12 all together and stayed till the café closed.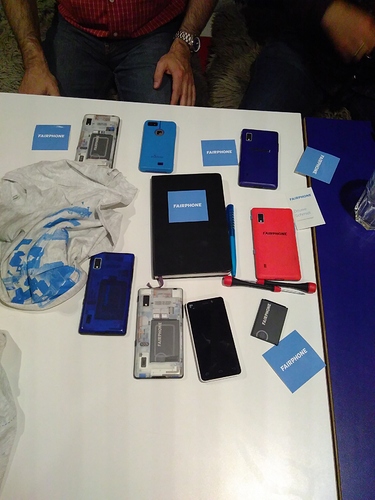 I was able to show how to install Xposed on the community phone. We also tried installing Android 6, but that didn't quite work out.
All in all a lovely evening!!
Great photos! Good to hear that you had a nice evening!
We were 12 all together and stayed till the café closed.
That's the Fairphone spirit!
I still have a womens t-shirt leftover in size M. It's the version "Exploeded view" seen here.

Is anyone interested? Please PM me.

Hallo liebe Stuttgarter Fairphoner,
ich suche begeisterte Fairphoner, die mir dabei helfen könnten, die Stuttgarter Fairphone Angels aufzubauen. Das ist eine Gruppe von Community-Mitgliedern, die anderen Stuttgartern (& Region) bei ihren Fairphone fragen helfen können und ggf. vor Ort bei Hardware-Problemen helfen kann.
Ich würde mich freuen, wenn sich enige bei mir melden würden, dann kann ich nähere Infos geben. In Wien sind die Angels schon etabliert.