Due to uptdate to FP3 I'm selling my used FP2 (+spare parts).
I'm offering a full functioning, used FP2 with translucent cover and battery in original packaging + spare indigo cover (very good condition) + black translucent cover.
I'm asking 140€ for it + postage. Parcelling from Stuttgart, Germany.
In the end I was annoyed by fast drainage of the battery (but I was also a heavy app user and all connections always on (4G+WiFi+GPS+Bluetooth). But the battery hardly lasted for a day.
There's a problem with the distance sensor probably, as when calling I repeatedly activated some button with my ear (namely the activating the flight mode which leads to an ending oft hat call. That is very unpleasant regarding the natural intesion of calls but can be solved my manually switching off the screen before holding the phone against the ear, or you may make a checkup with the distance sensor for what I was too lazy)
FP2 was bought in January 2016 (black translucent backcover)
6/2016 Extra translucent backcover bought.
12/2017 indigo backcover bought (when the translucent one started to crack) as a spare part fort he worst. But I dont remember that I had it ever installed. (It has some minor marks though)
02/2018 change of the bottom module due to bad connections leading to problems with microphone (well knówn fp2-problem. Was a warranty replacement)
05/2018 new translucent backcover bought. That's the one I used all the time since today, because I love it and reproduction was unfortunately stopped. I has a crack, all corners are broken and some letters of the fp-logo are missing but miracously it still holds very firm.
05/2018 new battery bought (the one, I will send with)
12/2019 substitution of the bottom module due to bad connections leading to problems with microphone (again)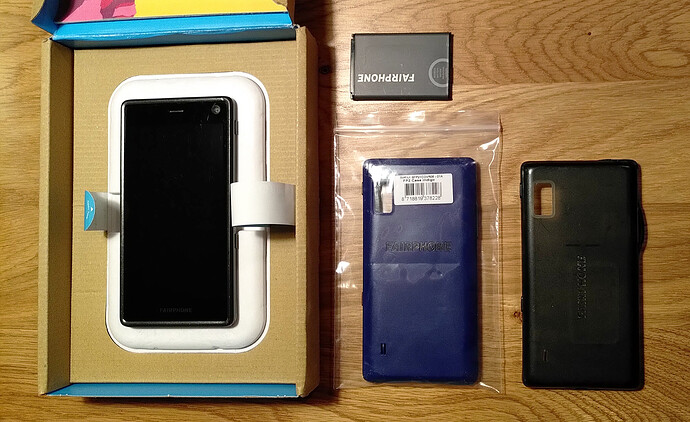 Bei deutscher Empfangsadresse, werde ich den Ersatz-akku beilegen.
---
NB: If you are interested and want to send a direct message, you will have to be a basic user on the forum. Reference about how to become one and other trust levels can be found here.
Be aware, that cross-border shipment of batteries outside a phone is virtually impossible for individuals.!