Fairphone 2, bought in April 2018 (neu gekauft April 2018)
The back cover has small cracks and dents, the front glas has some very small scratches on the surface, but not broken. 2 Batteries, one is working, the other is emtpy quite fast. Indigo back cover.
The camera module has been replaced in june 2019, the microphone/bottom module in april 2020.
Leicht zerkratztes Display, aber heil. Das Cover der Rückseite hat kleine Risse und Dellen. 2 Akkus, einer funktioniert einwandfrei, der andere ist recht schnell leer, aber trotzdem praktisch als Ersatz. Das Kameramodul wurde im Juni 2019 ersetzt, das Mikrofonmodul/Bottom Module erst im April 2020.
150,- € + shipping costs [or without, if meeting in Freiburg is possible]
150,-€ + Versandkosten [oder ohne, falls in Freiburg]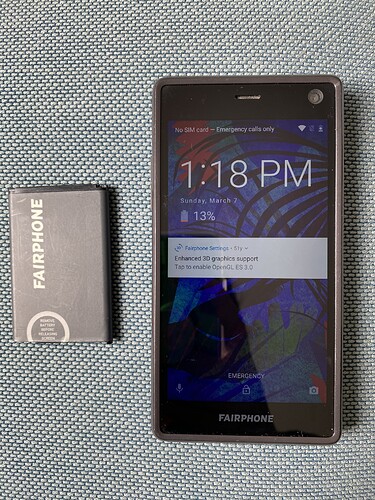 ---
NB: If you are interested and want to send a direct message, you will have to be a basic user on the forum. Reference about how to become one and other trust levels can be found here.
Be aware, that cross-border shipment of batteries outside a phone is virtually impossible for individuals.