As always, my sincere thanks to your overwhelming response to [ROM][UNOFFICIAL] Unofficial LineageOS 19.0 for Fairphone 3/Fairphone 3+.
On this positive note, I present to you the first build of LineageOS 20 running Android 13 for Fairphone 3/ Fairphone 3+. It's coming earlier than expected because Android 13 was simpler than Android 12.
If you would like to express your thanks to me by means of hard currency, please visit my Ko-Fi page: TeamB58 .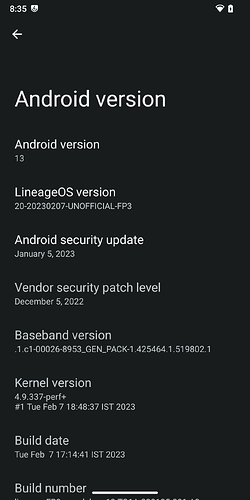 A summary on what's working and what's not:
Updated kernel to 4.9.337
Updated proprietary blobs from Android 11 MR4 release.
Working:
Boot
WiFi
Hotspot
Bluetooth
Camera
Radio(Network) - tested both SIM slots
Data - tested on single SIM
Encryption
Location/GPS
NFC
LOS 19.1 to 20 upgrade(without any data loss)
Fingerprint lock
Voice call/VOIP calls - Need confirmation.
Not working
Not a bug/issue but Fingerprint authentication will not work for 3rd party apps(like Banking apps).
You tell me!
Please test and report if you find any other strange issues.
Here's the download link: AndroidFileHost link
Looking forward to all of your feedback and suggestions.
Thanks,
TeamB58.