some further examples here, is your FP4 up to date, or which version is installed?
the tests "speakbox top speaker" and "speakbox bottom speaker" make some weird noise say "pass". i actually don't know if those were the correct tests. and i couldn't find any information in the internet or the manual, if there are additional mics or what those tiny holes in the top, bottom and left of the phone are.
volte is on. i don't know how old my sim card is and how i can find that out.
my fairphone is up to date (FP4.FP3W.A.128.20220516). i had already seen the other thread, but that doesn't seem to concern my case.
They don't sound like microphone tests and I thought there were 3 mics ??
on the FP3 they are mic1 and mic 2
Switch VoLTE off and replace your SIM card.
SIM cards older than 2 years can give a problem in combination with a Fairphone.
Hi, I notice the same problem. People tell me they dont hear me but it's not every time. I 've got Fairphone 4 for 2 weeks and the problem appeared since the beginning. My Sim card is new.
I juste noticed that call quality is better when I hold the phone on my left hear (?) I think the problem comes from the mic on the left which may be to "sensitive" ?
In Addition to above Tipps, check if the Google App has always access to the microphone and change this
just found out that the mic tests are findable under the "audio" test. while testing i blew (not too much) into the mics (there are three of them) to simulate wind and they all seemed very sensitive. i think it was slightly worse without the protection case.
Although at least one will act as a 'noise' cancellor it may be worth taping over the two you are not using to see how different it makes it.
I had a lot of signal problem to with FP4.
Send it back quick if it doesn t work within the 15 days .
I thought mine would improve with some update, but I have signal strength problems. Just send back my phone after 1 month of phone pain :
I would recommend you to test the upload speed on google.
If you get lower than 10MB UPLOAD close to a window or in the city center then send it back :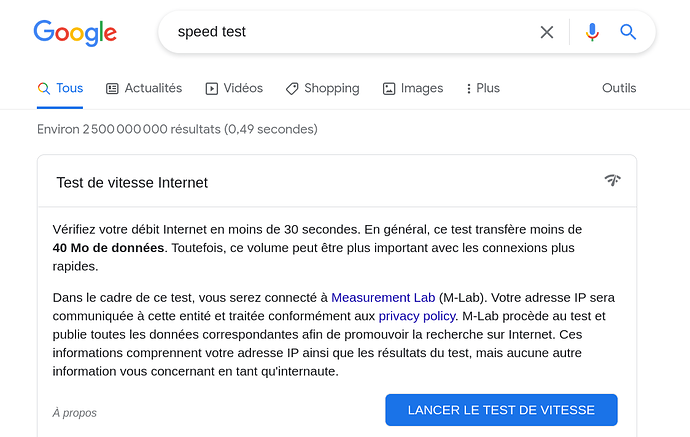 You can't just generalize like that
Generalize like what exactly?
That
I would recommend you to test the upload speed on google.
If you get lower than 10MB UPLOAD close to a window or in the city center then send it back :
I'm still in contact with support for this issue. I had to try a lot of things and did testing. support told me that if my fingers cover a mic, audio won't work because it requires all three microphones for audio.
I think that this can't be the only explanation for bad call quality because covering a mic, at least where they are placed on the FP4, happens so fast when you don't keep it in mind all the time.
I'll let you know when I get further updates.
@Soizick do you still have those problems?
Meaning most likely than the three work together for noise cancellation. I.E the query was about quality of call not that the mics were not working.
well support didn't put it that way (that it is only related to noise cancellation) unless i misunderstood something.
plus when the other side doesn't hear me at all, already when just one mic is covered, it has to do with the problem i initially explained:
I see you have tested the mics [Dial #*#*#2886#*#*] and they all seems to work so it is a quality issue which may be down to some app interfering with the default use. Have you tried using in safe mode for a day or two ?
This topic was automatically closed 180 days after the last reply. New replies are no longer allowed.