The button is peeling of from the case without any external influence.
Just wanted to let you know that my transparent back cover cracked as well. I submitted a support request and received a reply seven days later. Considering the backlog and that it's not the most urgent problem, I think that the response time is not too bad. In my case anyway…
My glue repair failed after a week or so. I posted a support ticket; they sent a new cover by return. But it's identical to the old cover (clear transclucent) with the only difference being "made in 2016" instead of "made in 2015".
I'm sure it will fail again … probably just after the warranty expires… meanwhile Fairphone are going to bankrupt themselves sending out new covers. … especially if they really cost around 27euros each!!!
REDESIGN REQUIRED !!!
Hi everybody,
Same issue here, send a ticket 3 weeks ago, #122752 and no answer yet…
Hi,
now my second Case gets broken at the Volume Control Buttons in the 6 Month since I have the Phone. With ~25€ for a new Case, this is quite expensive over the years I hope I can use the FP.
Does someone else have similar Problems?
https://pbs.twimg.com/media/Cru2yOTWAAESEDl.jpg
And, I've tried to send a direct Support Request, but the Form is not working. Or maybe it is working, but after hitting the "submit" Button, the Form is always shown again with no indication for an Error or successful delivery.
I moved your post here as this is a known issue. Please check the first post to see how to get a free replacement.
About the support request submit issue: Some people reported that choosing a different category to submit to did the trick.
I'm not able to submit the form, not in Firefox and not in Chrome, tried with different Categories and with dissabling all extensions. Seriously: WFT?
I contacted support with the suggested subject "Cracked case FP2" and received a reply that my cover will be replaced under warranty pretty much right away. Good customer experience.
Now I'm wondering: it looks like most of the covers that are affected are blue translucent, which is the same as I have. The reply from the support agent indicated that the root cause of the problem is still under investigation, which sounds like the replacement cover might show the same problem after a while. Since I'm given the option to choose a different color for replacement I'm wondering whether I should maybe do this. Does anyone have any insights here? Is blue translucent really more likely to break than other colors? Or is it maybe simply the most popular one, which would also explain a higher number of reported incidents? Or was only a certain batch of blue translucent covers susceptible to the problem and current ones don't show this problem anymore? (I received mine mid January).
Any insights greatly appreciated.
Andreas
So, after my cover also started to fan apart, i contacted support and got a new one delivered very fast. Thanks FairPhone!
Now I'm checking whether i can somehow repair the old one. But checking the old cover i get the impression the soft upper part somehow expanded and literally burst off of the cover part… When i try to get it aligned i have the impression the soft rim is half a millimeter longer than needed…
I have the same issue with a black translucent cover.
Update: I asked FP support to replace my blue translucent cover with the color that is least susceptible to this problem. They replied that the matte covers are "more durable" so now I'll receive a blue matte cover. Not quite as nerdy but hopefully more sustainable.
After failing to submit a ticket I contacted support by email and my cover has been replaced within a couple of days. Top service!!!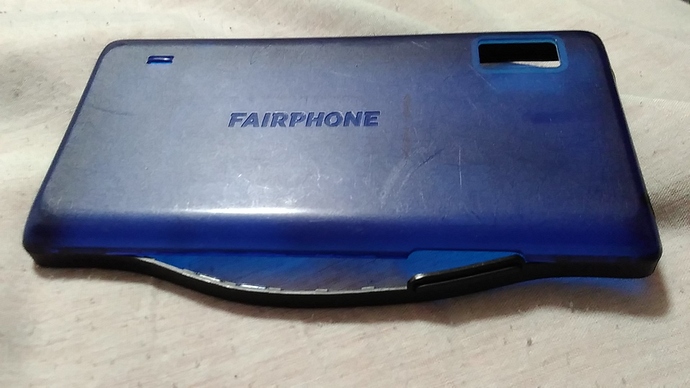 We have a record! Anyone with a larger split?
I'm considering not asking for a replacement and just glueing it, for sustainability's sake.
I glued it. It's still slightly deformed, but i won't order a replacement (free or not) until redesign. (As @nicka and @Ant0kneeguy said above)
Sustainability!
That big double volume button is a weak point for this near-perfect and lightweight case.
Just split the volume buttons in two separate and smaller buttons, as the power-on button.
Congratulations to the glue people! I tried several different glues and none lasted more than a few days. Eventually I rolled over and got a replacement … which will doubtless fail in a few months. The glued original is my backup.
My son's FP2 is non-transclucent black and has a split at least the length of Anto0kneeguy's, the rubber is hanging off in ribbons; but he won't replace it on principal.
We're torn between saving the planet (and not breaking Fairphone) and having a marketable product. They really need to fix this design or they won't sell any phones and will break anyway!
From what I have been reading and seeing in this thread, I think Klaus nailed it. The uncoupling of the rim from the back cover actually reminds me of what we learned in school is called a "bimetal". If Klaus is right, a glue fix probably only "resets" the situation very temporarily unless you somehow manage to shorten the rubber rim, i.e. cutting out maybe just 0.5 milimetres (once you are at glueing anyway …).
Also: the rubber rim separating from the back is not the only design flaw. The material of the back isn't sturdy enough, as many people have reported that the case cracks in the corners. Also my second case starts cracking now in the corners, even though I never took off the cover since I got the replacement, several months ago.
I was hoping that by the time my second cover starts falling apart, the design flaws are fixed, but it seems to become a never ending story. This is really bad considering the environmental impact.
I would probably consider the third party cover from @dvl as an alternative, but with all the respect to the designer I have to admit that 50€ (with shipping) is simply more than I am personally willing to spend on a thing like a phone backcover.
It would be great though, if Fairphone could for example offer such a third party solution as an official solution/alternative, if they are not able to fix the problems themselves. With just paying the price difference, I would totally be fine, as long as I don't need two back covers every year anymore.
There are several remarks to my own topic:
at best the involuntary joke - to me - is the followup question of @friek ("is the bumper any good"?)
because I didnot intend to use the bumper as a bumper according to the topic. .
fact is that I can today use the broken rubber rim and the bumper got a double function
The issue about my own topic to me still today is how I started it right here at Repairs. It took not long and it was moved by a mod to DIY (!)
FP2 looked tough before. And this image I could underline once more
My Fairphone 2 cover begins to split at the volume buttons - again (it is a replacement because of the same reason). Now, it is only a small split. But I fear that the split will get larger/worse.
Edit (2016-20-11 10:09 CEST): I submitted a support request (#134394). Submit only worked on PC, not via mobile page.