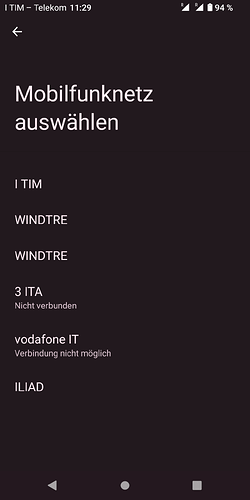 Dear community,
my contract is german, but I'm frequently in Italy with y FP3+. As far as I understood, Italy is using 5G, which FP3+ cannot handle. As son as I crossed the border, my mobile data stopped working, I think because my phone tried to connect with 5G. I don't havve this problem in any other country. So far (before Android 13), I manually selected a 4G network manually in Italy and solved the problem this way (Network and Internet → SM cards → Choose network automatically → disable, chose a 4G one manually). Annoying, but OK.
Since Android 13, this does not work anymore. The network list does not show the used networks (2G, 3G, 4G) anymore (se picture), and I cannot connect to any of them manually. The only thing that works is restricting my phone to use 3G only (no automatic option like 4G/3G/2G or 3G/2G works). This is really annoying, because slow.
Who has the same problem? Is there a solution?
Thank you and sunny greetings from Italy, Kathi