Touch is working so far !!
And by the way this project is one for a contest in Germany called "JugendForscht ", a contest for science loving young people. I also have to write a domcumentation and make presentation for this
If anyone is interessted to get a PCB or the hole thing soldered up, please tell me. You can get it for the costs of materials and shipping
PCB costs about 10 € (Aisler), Atmega32u4 about 5€ (conrad) + caps and resistors + shipping => about 20€ ?
I think we can afford that.
That's great work! Now with the released cover files you can easily create a fitting cover!

That saved me hours of tinkering !!

State of the project: PCB is working

Volume up / down is working with the phone (and also computers

)

case is in construction

Edit: Case construction finished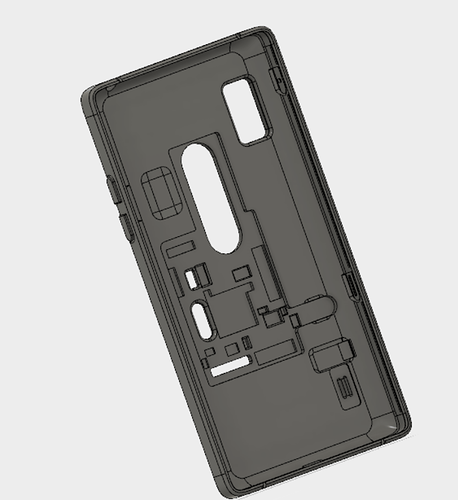 Edit: Code for basic functionality finished

Here you can see the result of printing the edited case files

The pcb is just fitting perctly into my designe

But what do you think?

Very cool @Cherry97 I appreciate your good work!
Great work! I enjoy following this development.
I hope that the #communityportal will soon be able to promote these #hardware:diy hacks. Maybe you can even team up with @jayy and build a proper 3D-printed case for the QI charger extension.
@Amber thanks !! That`s allways nice to hear !!
cool!
btw: I just stumpled upon the case design files from Fairphone itsself:

Yep, that's been announced here:
Hey Cherry,
this project is really cool! If I would have a FP2, I would order one module from you, but I am still on FP1
haha thanks but keep going with FP1!!
I did so with my LG G3
Thats Kind of hard… But next time I will use a smaller clock, trust me
Anyone interessted to get a cap. touch PCB ?

Code is fully working and touch is working smoothly

Everything soldered up: 30 € (includes shipping)
With 3d-printed case: 35 € ( includes shipping, support not removed)
Text me if you want one and better be fast it's the last one I have
Edit: Last one is gone !!
Texted

(20 chars)
just soldered the board for you and now I'm programming it!! @Amber
This is what it looks right: