This will never get old (just like the letters on the cover

)
Since I just realised that this is going to be post No. 69, I just want to say one thing:
nice.
That's post #73.
This is post #69:
You're both right.

Ah, the good old #mysterypart. They forgot to put such a cool easter egg into the FP3 right? Or do the letters on the cover count.

This reminds me of something…
I just noticed the code of this smiley
was :iphone:! And there is no other way to do a smartphone?
Come on, this is bad joke for the Fairphone Forum

Child: Dad, can we buy an iPhone?
rmf: We have an iPhone at home!
iPhone at home: Your Picture.

I like when there is a "mise en abyme" (a image inside itself for example). @Stefan gave me the way to do it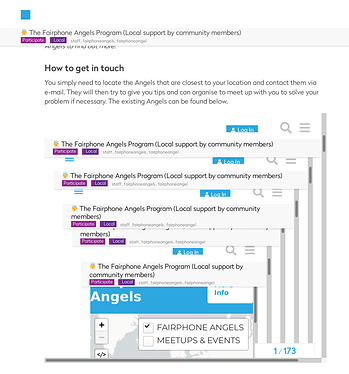 On the
#

fairphoneangel
topic, by clicking in the map on
More Info
, you can get the thread inside the map, in which there is a map, where you can click on
More Info
… And so on

And this way you can have multiple forum instances in the same window, where you can browse different topics, and I suppose even with different accounts

Just try it out yourself.
Had anyone noticed already?
Want to hear a construction joke? Oh never mind, I'm still working on that one
@Stanzi, I saw the Pirafone 1 and 2, when is Pirafone 3 coming out ?

We now have the FP3+ and the FP3-

I just read this in an old topic and it made me laugh a little

Fairphone support (or forum users

) when someone is complaining because the mic of her/his FP3 is not working:
…hm…hopefully you are not in any way related to "Mr. Smith" as precaution I set my firewall settings to max.

Strange thing about him and upcoming MTRX4 - the original isn't onboard this time…