Is it only me, or have all the customizations (font, etc.) been removed?
Can't say I've noticed anything

Strange.
Do tags still look like links? #livingwogoogle

Usually I'd suspect a discourse upgrade, but it's still outdated since quite a while.
No, they don't for me:


I'm on a windows system at the moment, and I have access to chrome 60.0.3112.113 (64-bit) and firefox 55.0.3 (32-bit).
Chrome is rendering Radikal, Firefox is rendering Helvetica or Arial.
Edit: Also, the headers of the page that the browsers get served are different (as well as the stylesheets they attempt to load), so this could be something to do with discourse adapting to which browser is used.
Chrome:
Firefox:
Edit2:
Same behaviour on an earlier (52.something, sorry) 64-bit Firefox.
That confirms again that the webdesigners prefer Google over not-for-profit Mozilla… Otherwise they'd have noticed.
Haha, you are all kinda late with this. I rolled back to the old forum design some weeks ago, as the new design that was made broke all kind of stuff and it annoyed me a lot.
I was surprised to notice that no-one really seemed to see the change, or care about it.
I think the developers are just about ready to release the fixed design files, so we should be back in 2017 any day now.
I did care, but I thought that things would fix themselves after a while.

Turns out that I just got too impatient and that the forum indeed fixes itself if you wait long enough…

Wohooo

That's how it's done right!

Four remarks:
There seems to be a problem with the expand button of the first post:
Emojis seem very small
The line spacing of the new top bar is too small (the "g" is cut off):
Headings are not bold (#### Headline) / All text is bold
thnx stefan for the feedback! I will forward it!
Some issues in the mobile version too:
(The Fairphone-F that should accompany your avatar, and the top bar that is obsolete.)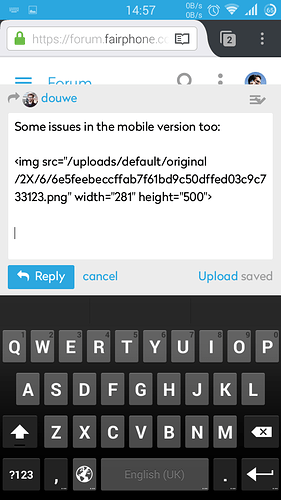 (The settings button in the editor.)
And another one: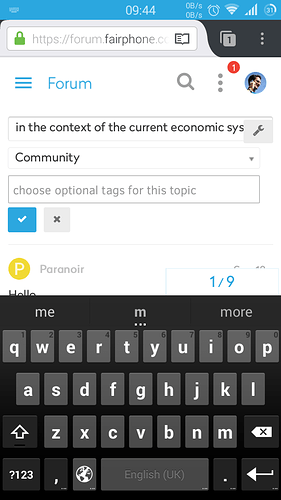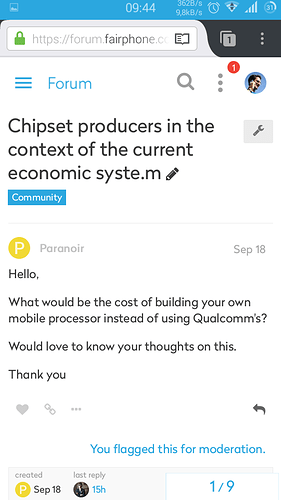 Didn't really see what I was doing…

(the wrench button overlays the title edit field.
Yeah, so many glitches still. Thank you for collecting them Stefan!
You are welcome!
I'll continue, ok?
The "Set topic timer…" entry in the moderator menu doesn't work. Nothing happens when I click it (on mobile).
you do make me consider rolling back to the default theme…