General question: out of curiosity, when you make a regular call, do you see an HD indicator while having the call? Using the default dialer and having VoLTE enabled. Because I don't have this, which might explain the bad call quality, that I'm actually not using HD voice calls.
An example is below. If you don't see this HD indicator, please leave a comment with your carrier and country.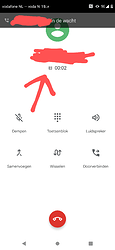 I just learned that although you may be using VoLTE, this HD indicator might not show up. This may depend on your carrier. So I'll close the poll since the result is likely not conclusive anyway. The goal was to see if we could gather some info about the quality of regular calls so we may help FP to improve it. But that goal cannot be reached this way.
Do you see an HD indicator during regular calls?