Update, this battery still working fine 23 May 2018
For convenience: That's 9 months without issues.
I bought vhbw hb5n1h battery and it fits mechanically really fine.
A small zip tie at the bottom acts as a spring and keeps the battery where it must be.
But…
The battery gauge is not really working : in general phone shuts off itself without warning at around 50%.
And charging to 100% lasts 1 h only (it looks short to me).
Do you know a way to get a good working battery gauge again ?
I don't know if the battery reset works the same for generic batteries, but I'd guess it does. You can find the procedure in the #batteryguide or you could try this app.
I have tried the battety calibration via that app, but I cannot say that I see a difference. Of course, this might be caused because of the buggy battery stats in #kitkat.
Thanks, but
Same for me about the battery calibration app ; and procedure from #batteryguide seems without effect in my case.
I just need to remember that "50%" means "0%" in reality.
In looking for one of these Huawei batteries, I'm finding some with a capacity of 3600mAh: does anyone know if these would be fine with the FP1, a good idea or not worth the extra few £s?
Thanks so much
Takes more specifications to judge, but frankly 80% more capacity than the original FP1 battery almost certainly means that the battery is far too big to fit into the FP1.
That's really helpful, thanks - have now looked & yes the 3600 batteries are twice as thick as the 1800 ones so wouldn't fit in the FP. Have now ordered an 1800 one & look forward to having FP1 for more years
Gerrit actually did use a 3600 one for his mother's FP1 … but see what it took him to make it fit

Wow, that's impressive! I've ordered an 1800 one
Hi all, has anybody experience with this battery for Fairphone 1?

Thanks!
It has the same size as the Huawei battery.
The vhbw battery I had gauge problems with is on its way back to the seller
I bought a Huawei one (11.90 € + shipment):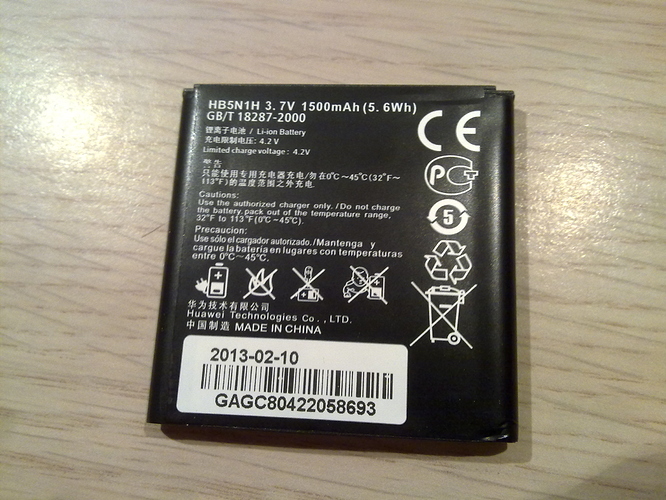 And it works fine, no more switch off at 50%.
Hallo,
welchen Akku mit hartem Spacer kann ich wo kaufen. Diese Suche nach einer geeigneten FP1 Batterie ist ja zeitraubend.
Ich kann nicht verstehen, das es für ein nachhaltig hergestelltes Mobilphone (FP) nach wenigen Jahren schon keine Batterie, das Herzstück eines Handys, gibt.
Vielleicht rettet mich nun eine Eigenbau-Alternative.
Freue mich über Nachricht, danke vorab.
Dorit
Versuchs zu verstehen, dann geht das schon.
Es ist so, dass die meisten Produzenten von Handykomponenten keine so kleinen Stückzahlen produzieren und schon gar nicht unter den Bedingungen, die Fairphone fordert.
Dafür hat die Community recht bald Alternativen gefunden. Spacer machst du dir am besten selbst, alles andere ist überteuert.
Insbesondere der Spacer aus Silikon von jubatec ist zu flexibel und hält den Akku nicht richtig in Position. Bei mir tut es ein gefalteter fester Karton. Temperaturen, bei denen das entflammen könnte dürften ausgeschlossen sein.
Die Akkualternativen sind ja im Thread genannt, so dass die Suche eigentlich ganz fix gehen sollte.

Die Angaben zur Verfügbarkeit in dem Posting sind natürlich obsolet.

Wenn Du einen 3D Drucker hast, kannst Du den Spacer auch wie im vorstehend verlinkten Possting gezeigt (mit Link zu thingiverse.com) anfertigen:
One year later, nearly, some news on the generic battery…
It works just fine enough for me.
Usually I don't drain the battery too much: the phone is very often plugged as a bridge between the computer and the wifi.
But recently I've just had a bicycle tour where my FP was used with the GPS open (for OSMAND the best map I know… I'm a contributor
) and the screen light was set near the half. During that week the battery was used hard and didn't fail…
I only noticed when the level was approaching 50% (more or less) than when I restarted the phone, the new level was said being critical, near 10-15%.
The battery seems still being available on the FNAC website.
It is still the same piece of cardboard that is used as a spacer.
Very cheap solution, I'm happy with it.
Thanks to the Fairphone Company and the Fairphone community.
La vie est belle ! would say a brother of mine.