Sorry to raise again a fastboot problem, but I went though multiple how to multiple post in forum without being able to solve the problem.
I want to install /e/ OS on my brand new FP3+.
On the FP3+ I do have: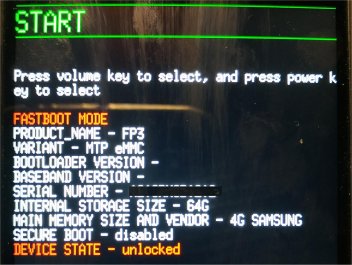 Then I press start button to start (in fastboot mode ?) the device.
I get <!> screen information saying it is unlocked.
After this start I can use adb:
adb devices
List of devices attached
A209nnnnnn device
But when I start fastboot it does not return anything.
I check on windows 10: drivers are OK, I can see Android FP3 in hardware and share data is working.
I tryed on linux with the same result. I also created an entry in udev with info found in lsusb but no change fastboot does not see any device, I tryed root or not, same result.
Finaly I tryed easy installer on windows and after rebooting in fastmode it is stuck as if fastboot would not have been activated.
Help would be apreciated.
Thanks.