I have an update on this. The amazon vendor said they had a case the way I needed, exposed camera, sadly, but the phone is attached via a grip rather than glue strip/velcro. All the necessary holes are perfectly located as well. It's absolutely perfect, however the catch is, when I asked them where one could order this case specifically, they simply told me to order the previously ordered case (the one linked in my last response) and they'll send this model instead… I don't know how reliable that response is, but I figured to share this information anyway, in case someone can have some use from it.
This is the new case they sent me:

More images here
Does this case leave holes for the volume buttons, fingerprint scanner and cameras?
The volume buttons are free, so are the cameras. I'm not sure where the fingerprint scanner is, though, so I can't answer that. If it's on the back, probably not. Aside from the camera, the back seems all covered.
The fingerprint scanner is the power button, below the volume buttons, on the side
All buttons are free, including the power button!
I have finally found a suitable case without glue, without magnets, but with hidden rear cameras!
I had already been interested in this product range with the size 3XL (5.9 - 6.3"), but I found out:
But who would have thought that this cover would have been too big anyway? Even though the FP4 has a 6.3" display! Incredibly, you have to take Hama Booklet "Smart Move", size XXL (5.2 - 5.8"). The description says: for smartphones with a maximum size of 8 x 16 cm. I have measured the case. Its outer dimensions are: width x height x thickness = 8.8 x 17 x 2 cm. This size fits perfectly. Slightly larger than the FP4, but not too large. You can buy it on Amazon, Ebay, … But here is a link from the manufacturer where you have an overview of all model variants:
.https://de.hama.com/search?searchMode=1&q=booklet+smart+move+xxl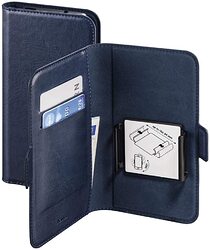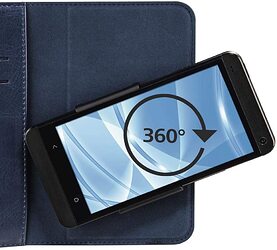 The cover is available in different colours and surfaces. But beware! I bought "Smart Move" and it fits. "Smart Move - Metallic" I tried and it doesn't fit!!! It is a bit smaller!!! So I assume that "Smart Move - Rainbow" will not fit either. But probably "Smart Move - Carbon" will. So all in all, this product range is very confusing in terms of sizes.
All connections and buttons are completely free, except for the power button. This is covered by about 4 mm when the smartphone is positioned in the centre of the case. Switching it on still works without any problems.
I don't know if the fingerprint sensor also works this way. It would probably not be advisable to position the smartphone flush at the top. Then the power button would be completely free. If necessary, you could always push the phone up a little and then back again. But won't that get on your nerves at some point? If you need the fingerprint sensor, you should first try out whether the upper part is enough for it.
The clamp is stable and holds the smartphone firmly and securely. It reliably stays in the position in which you have turned it. When the smartphone is turned 90°, the cameras are completely free.
I have found a flip case that has a rubber case which fits. After 2 weeks in use I am still happy with it.
Hi, just wanted to let you know, that I now offer the cases with the protective case from Fairphone. The protective case is attached to the leather cover using the strongest tape ever, which I have been using for 3 years now, and very happy with it. And the phone is attached inside the protective case. And another plus is that you can take it out and put it back in.