Looks great, almost as if it was metal.

Can you show it on the FP3 (front + back)?
Tonight yes, I don't have a dedicated Camera and just the Fairphone

But I ask a Friend to take the Picture
Hi!!! I ran into this post after searching all over for a case that would fit the fairphone 3. I love your designs and I would like to try to design my own case and print it!

I have never do anything related to 3D printing, can you tell me which software did you use to design the case? what's the best way to get accurate measurements of the phone? … Also I was checking your dummy, is it possible to modify it (like a different pattern of the net, etc.)
Thanks a lot!
And Merry Christmas!
Ximena
Hey ho,
The dummy is drawn in a commercial CAD program I have available through work, it's called Solidworks.
I found a nice feature that produce a equal thickness skin over the Modell you previously made


So I made a 1mm skin all around and than did a cutout for the front.
The open pattern on the back is just playing around with the 'infill' setting of the slicer software.
No Top/Bottom layer and the infill pattern/percentage you like… Done
At the moment I have a… 30? 25?% honeycomb/star pattern, but it's a bit to much… More holes=more gripp in your hands

I'll try publishing the files today if possible
So far I can only see renders/pictures of your case design on the back of the phone. I wonder if your case overlaps on the front side of the phone (like the default FP3 bumper does)? If yes, you must have been using an elastic material, right? I am asking based on the assumption that your design is a one-piece case.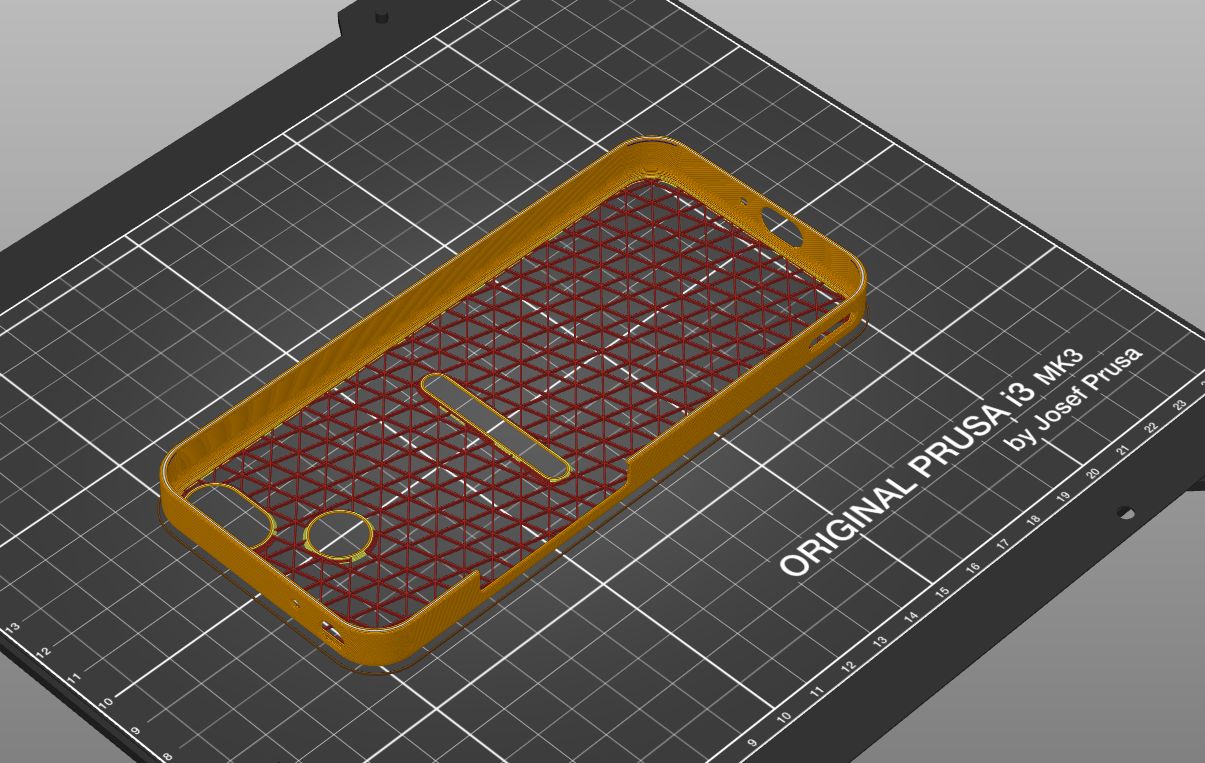 I'm finally satisfied with the result
The Print is running for the moment, so you'll get some assembled Pictures in ~an Hour or so
For now, the Render from my Slicer and the link to my Thingiverse Article.
@urs_lesse
The Case is protruding in the Front ~1mm above the Display.
So if you drop it perfectly perpendicular to a flat surface the Brim of the Case will first.
But in Theory I could just extend the STL as long as I want.
I could print one with a 10mm "Privacy Shield" XD
The Print is PLA non flexible (Nightglow) for now, my Prusa MK3 is really precise calibrated so it's a literal Snap fit
Yesterday evening I took some Photos at last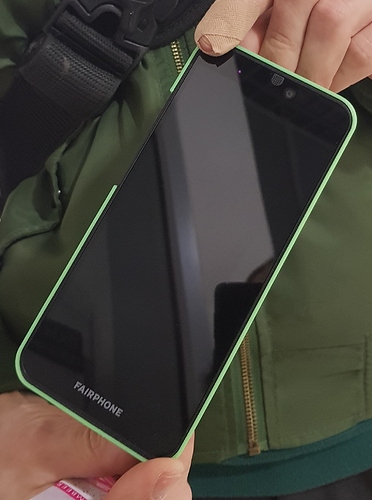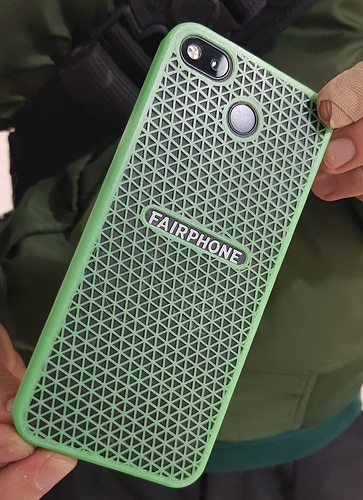 And this is how the previous Version looked like at night
Wooaaah!

Fantastic

Umm … on a second thought: Does it glow in the dark like some clock faces in old times? Is that healthy?
I know what you have in mind.
The old Style Watch dials and hands have Tritium/Radium Paint. But handling 'Open Radioactive materials' is illegal since '93 with a transition time of 5 years if you previously worked with this stuff, you could use the leftovers until '98.
I know it this precisely because I work in the Watch Industry
Nowadays they use 'Luminova' some Phosphorescence Material, most Filaments use zinc sulfide vs. strontium aluminate.
So the Filament is neigther Toxic nor Radioactive
To get the Nightglow effect you have to "Charge" the Material with UV Light.
If you leave your Phone in your Pocket for 2 Days it won't glow, but daily use is more than enough to have it glow all night
Hi Tig3rch3n - have been linked to this post as have just bought a FP3 and desperately need a coloured cover, I always lose black things! Are you in a position to market what you're developing? As no way could/would I make such a thing myself! Thanks.
Depends on where you're from

Central Europe would be ok for me


I dislike the Idea of shipping one-off Stuff half way around the world U_u
You can upload the STL file from my Thingiverse entry to one of those printing services like 3D Hub and have a look who is closest by your Area.
Or some Public Librarys/Makerspaces offer the same service.
Thank you! I'm in the UK, if that's close enough?
I don't understand the world of how these things are made, should you be able to advise me in simpler language(!
) how to locate others, if I am too far away? Thanks again.
I send you a DM

This topic was automatically closed 182 days after the last reply. New replies are no longer allowed.
Hi Tig3rch3n, I own a Fairphone 3+ but I have zero experience about 3D printing. Do you think is possible to print a cover and send to me? I live in Italy
So, I've used a 3D printing service (sculpteo.com) for 48€ (including tax and shipping cost). For material, I used their "Multijet Fusion, PA12 (Grey)" with a Color Touch black finish. This material is quite rigid, but slightly bendable. I didn't make any adjustments to the 3D model.
Well, in my case (hehe), the "snug fit" isn't really as snug as I'd wanted it to. I have a significant gap at the bottom, meaning I can slide the phone upside down in the case, just like with the official Fairphone case when it has become enlarged.
The sides however fit very well and appear to be keeping the phone in the case.
The cutout for the buttons however isn't deep enough. The buttons lie directly on the edge of the case, making it really hard to click them.
So, I'd advise everybody to print this case "in person". You might need to make adjustments to get a properly fitting case. I'll upload pictures once I get my hands on a camera.
Have you compared the measurements of your printed case with those of the 3D model?