Some more pictures:
On the ferry. F.l.t.r.: @Douwe, @Irina_Spitznagel, @Friek, Marcel, @Stefan, @paulakreuzer, @werner_noebauer, @z3ntu, @Amber, @laurent_guerguy, @Chris_R, Lydia, @AlbertJP
In the village where @Douwe was born.
@z3ntu enjoying his ride on the trike. Very elegant!

Attacking the Ransdorp tower.
And we won the siege! @werner_noebauer is hoisting the Fairphone flag.
The flag is beautifully declaring all of the surrounding area as liberated from the iNightmare that ruled it before.
Happy birthday to @z3ntu, who turns 18 today!


This is (was) his cake.
---

Mind that we meet tomorrow at the Fairphone Office at 9:30.

The first one (1718) is the nicest shot so far

And congratulations to @z3ntu as well!

Thanks to the guy, who was standing in front of us on the ferry!
It looks like it's raining the matrix background and it splashes off of @z3ntu.
Hi all guys!
Thanks for sharing the pics. Awesome days so far in Amsterdam. Just to let you know that these days at ICT for Sustaiability Summer school we are working about how modular design on FP or other electric materials with similar design idea impacts on the CO2 footprint whilst assuring longevity. I will share our thoughts and findings on Saturday.
Looking forward to meeting with you all guys!
BR.
P.S - BTW @paulakreuzer, I have brought an spare part for @lina1. are you also going to bring the other spare parts I ask for? Cheers!
You ok, @Stefan?
These must be the first photos ever that show you with a non-Fairphone t-shirt.
I'm not an FP employee, but I just asked @Douwe and he said he made sure these spare parts are here for us.
thanks for inviting me and enabling me to be part of the #efct17 as well as for your interest in my little project
was great to see you on skype
I thought that the Fairphone T-Shirt is better worn outside the Fairphone office, where it has more advertising power.

Thank you for sharing the details about your project!
@ungutknut is working on 3D-printed covers for the Fairphone 2. Maybe the QI receiver can be integrated there.
---
More photos (and GIFs).

Us sitting in the famous Fairphone amphitheatre, listening to @iratxe's workshop.
@Iratxe explaining very vividly.
@Amber presenting his group's answers to @Iratxe's concluding questions.
@jayy presenting his QI connector board via Skype.
Sito,…
…Indre and Damiano explaining the FairBnB Coop.
@Chris_R chipping in to the discussion.
Thanks to all, who prepared workshops and gave us so much interesting input!

Monday | Tuesday | Wednesday | Thursday | Friday | Saturday | Sunday
---
Day 4 - Helping Fairphone + party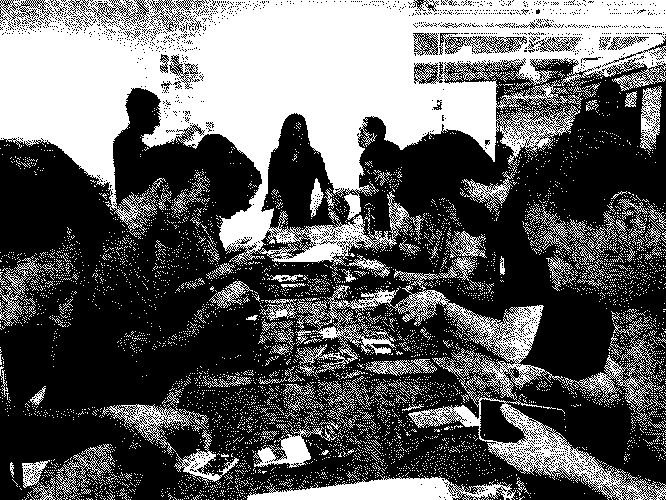 Dismantling line has been set up!
---
Monday | Tuesday | Wednesday | Thursday | Friday | Saturday | Sunday
This is GIF was too large to upload.

And in case anyone is wondering why the gifs are so retro… I used this: Retroboy
It was a long day! After helping Fairphone with testing some spare parts we received a summary from @Iratxe and @laurent_guerguy about the SYNAPSE program.
After that some Fairphone team members were pinned down and had to answer everything the community wanted to know.

In the evening @Irina_Spitznagel, @lina1, @Douwe and many more had prepared party games, pizza and beer and we had a great get-together of the community and the Fairphone Team.
Some more pictures from yesterday:
Will there be a similar event next year? How can I be kept informed?
Hey, was cool to meet everyone at the office yesterday.
Enjoy the last few days in Amsterdam. This weekend is going to be blast with all the Pride festivities.
Where on the forum? Has the date for next year been announced yet?