Is somebody using the Finn bike holder with the FP1 (and case) and would like to share his/her experiences? http://getfinn.com/de/
Yes, I am using a Finn bike holder.
For street use and on bad roads its ok, but for long rough downhill races I wouldnt trust it.
Nice add-on is a code to get free a version of the bike-citizens.
I am using Finn as well with the FP. I like it very much for city or normal tours. To type during biking is anyway quite tough, but that's not a problem of Finn.
I find it holds the FP very tight and you can place the 4 holder-ears in a way you want and where they are less disturbing and don' pressing any keys.
Although I didn't try, I would trust the Finn holder also for some MTB tours, maybe not the hardest ones.
But if no of the Finn-stripes break - I think it will hold the FP very tight also on downhill.
From my side: recommendation to use Finn!
I haven't heard of the Finn before, thanks for sharing. I really like the simplicity.
But I'm using an even simpler & cheaper bike mount wich works very well for the city and some moderate mountainbiking aswell:
It's simply a scrapped inner tube wrapped around all 4 corners of the phone.
As you can see I'm using Gravity Box to rotate the screen so I can plug a usb cable to the "bottom". Btw, I'm not using a very good USB cable and power my phone with a dynamo and still my GPS works impecably.
I like to use it in combination with my diy case so just in case the phone falls down (wich never happened) it might survive.
@paulakreuzer , this is one of the coolest bike-holder DIYs I've seen so far.
Bonus points for using your hub dynamo to charge it - can you fill us in on the details of this as well?
[EDITH says I was blind and should have seen you already started another thread… thanks, the two of you!]
I just ordered a Finn bikeholder for my FP2 and will report back later how it works for me

I think it is nice that it can be used for different phone sizes and bikes so easily. And even though it is not the season for some average cyclists, I bike throughout the year and it might be interesting for some other new FP2 owners as well, so sorry for reviving the topic
Well it's been a year how did you find it? Did it snap also what kind of journeys do you do? (I'm thinking about purchasing one)
If you asking for FINN, I can still highly recommend it.
It now prooved also beeing suitable for mountain bike trails. It stayed in place very well.
Also after I slight crash with my bike the FINN bike holder had no problem, but the screen protector of my FP2 cracked, because FP2 touched the ground while beeing fixed…so it was not the fault of FINN.
I am really sorry that I did not report back as promised up to now…
Anyway, to come back to your question, the Finn bikeholder works very well for me. I used it mainly to find my way in my new home town and for day trips and it held my FP2 very well.
One minor drawback is that the silicon band would normally go over the power button but since it is elastic you can circumvent this behaviour
To make it short, I agree with @therob.
I am also using FINN and am happy with it.
I am using FINN for two years (almost one year with FP2) and more than 1000km now and I am still happy with it.
At low temperatures and rough mtb trails the screen started flickering.
Putting a plate covered with bubble wrap under the phone solved this problem. I think the combination low temperature, shaking and bending was to much.
This has been a really useful conversation. I'd had a phone mount that I used with my previous phone,which worked fine, I tried it with my FP2 and it didn't hold it at all. I was faffing with it and dropped my phone and it's got a smashed screen! Oops
So I'm gonna get a Finn after reading all these recommendations. Thanks!
I just tried to fix my FP2 at my bike with Finn, but I'm not so much pleased. The phone teetered much around the handle bar and the straps pressed the on/off and the louder button easily. It could have been made, that the straps are running nearer to the phones edges, keeping free from the buttons. I`ll think about a better solution out of materials, I can deal with. I'll report after I have found it and are satisfied with.
It could look like this: A 3 mm aluminium sheed, screwed at the handle bar, fixing the phone with two rubber rings.
Smartphone-Halterung; Entwurf 1.pdf (8.2 KB)
The second attempt looks much better than the first one, published above as a PDF file.

The two rubber rings I have used I got from an 'industrial requirement' shop. The size of these o-rings is 3 x 80.
The fixing at the handle bar could be done by cable ties.
Third attempt:

The most difficult task was to create an easily removable rain cap for the phone. But I achieved it:

Another improvement: When I did a ride on my bike with the FP2 and a charging cable plugged in at it, the cable got out by vibration again and again. So I fixed it with two other rubber rings (2mm x 50mm) and a cable tie.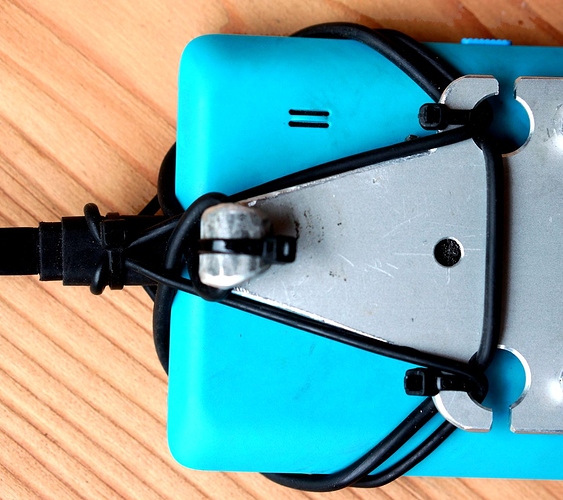 [quote="Heiner, post:13, topic:5626"]
This topic was automatically closed 182 days after the last reply. New replies are no longer allowed.