How do I get to the Developer option?
Settings > About Phone > Build number > and tap 10 times
Then
Settings > System > (Advanced) > Developer Options > ON
Search [Developer options]
This is not only a fairphone issue…
It worked fine for me when I had Android 12 for one year on my Pixel. On the day of release there were no issues. These issues are mostly due to the vendor implementation of Android 12.
Unfortunately after the Android 12 update my Bluetooth headphones don't work anymore.
What exactly happens:
they connect with my phone
they are set for media audio
they are recognised in all apps
however, still no sound comes out of them…
What have I already done to try to fix it?
reconnect it to my Sony headphones app
disconnect and reconnect it to the device
check that my audio is turned on (it is)
restart both devices (FP4 + Sony Wireless Headphones)
turned off/on Bluetooth on both devices
The audio is still not working.
I didn't find anyone else with the problem. If you have it, too, please mention it and your experiences. If you have other ideas for solutions, let us know
It seems like others have similar problems. E.g. a comment under this post: Android 12 has come to the FP4 - #50 by Anton_Lokke_Laursen Additionally there are apparently some who have general media audio issues.
In my case the normal media audio without Bluetooth seems to work without problems.
I have a half-baked solution:
After turning off the HD audio on my headphones it is working. However, this is somewhat of a disappointment as now one of the core features of my headphones is permanently disabled.
Do you have a better solution?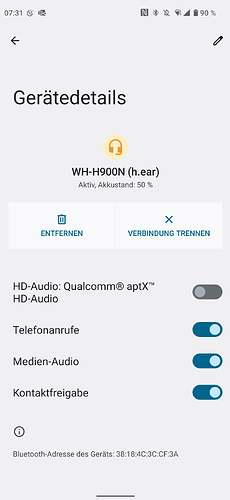 There are many others having this issue and its being worked on, please read above.
Is anyone else also finding their WiFi seems to impact their Bluetooth connection? Sometimes it flickers in and out a bit, it seems to be when WiFi is struggling to connect to a bad signal. Perhaps this was always there but never really noticed it before. Like if Bluetooth audio is being spotty in my headphones if I flick WiFi off it seems to resolve it? Making a hotspot makes it much worse
Edit:
WiFi/Bluetooth problem others similar, guess I can try those steps if it becomes a problem
Aware they use the same frequency. Not always able to use 5GHz, don't remember them problem being marked before android 12 but maybe I'm just paying more attention currently
Bluetooth uses the 2.4GHz band of EMF as does the 2.4GHz.
Stop the 2.4GHz Wi-Fi option on the phone from connecting automatically so that the phone uses 5GHz
Hello, I take it you were referring to the advice in the thread about turning off the HD audio in the Bluetooth Device details of the paired earphones/speaker/device; it has worked! Thank you!
Hello,
since I got the update to Android 12 the "HD-Audio" (i.e. aptX Adaptive) does not work correctly anymore. Apps like Spotify "play" the song, but there is simply no sound from the headphones.
When I turn off the HD-Audio I get sound, but in poorer quality. aptX worked before with Android 11 and also works perfect with Android 12 on my Lenovo tablet. So it is not a general Faiphone nor a general Android 12 problem, but especially the problem of a buggy Fairphone-4-Android-12 firmware.
I found a similar Thread here: https://forum.fairphone.com/t/aptx-lost-with-android-12-update/93107
However it was closed although not solved. I don't really understand why.
Will there soon be a bugfix available?
See the link in the final post . . .
After i installed the new update my bluetoothdoesnt connect to devices anymore.
What can i do?
Restart does not help.
Please read above current solution is linked in the first post e.g.
It may help to just switch to a different 2.4GHz mode. Iirc it's any mode combined with the .b type to avoid as it's the oldest available also interfering with microwave ovens. There should be an older post of me with some more details as I also had this problem with my FP2 and a 2.4GHz only capable router.
Hi, at least in my case, it is sufficient to keep HD audio on in the developer options but select AAC as codec (Bowers & Wilkins Pi5). Still quite some downgrade from AptX but much better than the non-HD SBC codec which sounds really horrible. The nasty thing is that one has to redo this setting each time the in-ears connect.
Hello,
I am having the same issue. Updated my FP4 to Android 12 on February 12 and my Jabra Elite 3 ear buds refuse to play sound. Bad reminiscence to my Fairphone 2 times when seemingly every component stopped working within 2 years time …
[UPDATE]
developer options → bluetooth-audio: codec → SBC: works
developer options → bluetooth-audio: codec → aptX: does not work (despite the ear buds supposedly supporting this codec)
I had the same problem with Sony headphones after upgrading to Android 12. Most of us are not into the technical details, we just find that our headphones are not working. It has taken me hours and hours to track down what to do - very frustrating. It would be nice if Fairphone could alert us to potential issues and work arounds when updates to software is delivered. At least I have now found this site.
Welcome to the Fairphone community.
If this issue had been known, I guess Fairphone had postponed the roll out of the update. So no prewarning was possible.