I now have a 'RPHONE', although I managed to save the 'A', unlike the 'F' and 'I'.
I have also lost some stickers in a sweaty pocket and am against ordering a replacement. I have filled the letters with pencil. I think it looks quite nice now in the silvery grey. Not as outspoken as the original white letters and better than leaving it empty because you cannot see through it. And it is easy to apply with a propelling pencil.
Not a real problem there, but the white inlet letters of my FP3 back are dissolving.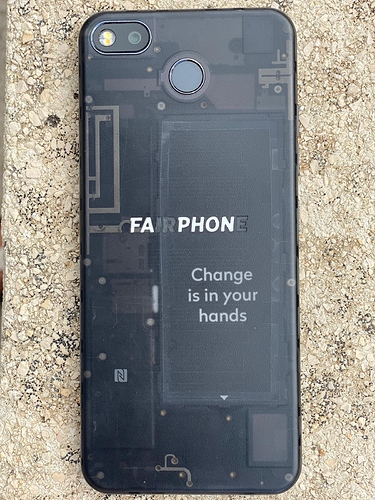 Now, if also loose the "H", well … uhm … it starts getting somehow embarrassing leaving my FP3 up-side-down on a table then…
"cough"
Maybe some other glue or material component next time?
I am the proud owner of a FA ONE

I was going to ask if anyone knew where I can get an 'E' ??
But now I need an 'N' as well.
Anyone else have the white lettering on the back of the phone fall out?
They aren't actually painted - they are little white plastic letters cut/printed precisely to fit the grooves in the back of the phone (I put my 'e' back about 3 times before I lost it).
Can I get some new ones ? - I really liked it when my phone said 'FAIRPHONE' people asked about it. Now it says 'FAIRPHO' fewer people seem interested !
Cheers
Rory
You can exchange the back cover at Fairphone. This is a production error that has been known long enough. The phone is too expensive to accept such a thing if you don't want it.
The replacement back cover has the same issue, right? So what's the upside?
I think they've improved it slighltly by enlarging the letters. But this problem is strange: I thought they had perfectly sticking letters on the FP2 slimcovers…
My 'RPHONE' is now protected and has been transformed back into a 'FAIRPHONE' (hopefully long-term) by the lovely green case that a kind forumite was getting rid of and sent to me

Almost lost the I the other day, my pocket was wet from the rain, when I move it I can feel the cheap glue playing underneath the sticker, so I would say it is not moisture proof.
Many thanks for the advice - for me, however, exchanging the case on a sustainable product somehow seems wrong. I will attempt a hack with some nail polish
Lessons learned - I am never going to make it as a beauty therapist/nail technician !
'Fairphone - the lettering from the phone is in your hands!'
Then it is just exchanged again and again and again. Fairphone should best fix the production error. It is not magic or rocket science.
Well, with a sustainable product the bug would already be fixed. It is still being produced faulty after one year. It is the worst advertisement for Fairphone ever.
This is what happens when a company is run by liberal treehuggers

kidding…
If you really care about the big flashy logo on the back you will be disappointed to find out what fairphone have in store. So take a deep breath and let it go…
my replacement has already arrived (actually i think it was last week), it was very easy to get the replacement part directly via fairphone.com although i did not purchase my phone here directly
From what I know (or hopefully correctly perceive), that is totally wrong, as it is a conclusion based on wrong assumptions.
Fairphone is a small company selling most phones through their own website.
Just take a look at the number of phones sold.
Those phones are not produced like those by the global players in a constant stream on a production line (allowing for changes every day). Since those production lines do in one day deliver what Fairphone sells in a year, the phones are produced in "batches".
This means:
While users started to complain, that the letters are falling off, Fairphone possibly has produced 2 or 3 batches and was working on developing the FP3+.
The FP3's that are being sold, were most likely produced, before Fairphone even knew that the letters would come off.
As a kind of proof, take a look at the changes they have made to the FP3+. There are no more letters glued to the back. Seems, that the glue-solution could not be made to last and that they were working on this problem but could not solve it, before the last batch of FP3 was produced.
I still have a PHON and find it hilarious. They indeed seem to come off because of moist (rain, sweat, …). Everyone noticing it laughs about it and says - well, if that's your wordt issue, you're good.
Other people usually have a cracked screen, a loose charging socket, or an outdated android version for their banking app.