Hello AlbertJP,
I connected my PC to FP3 hotspot while my home WLAN was switched off.
I confirmed that I could normally (i.e. slowly) access internet pages from the PC.
And just for your reference, the APN settings on FP3 following Telekom recommendations:
APN Name: Telekom Internet IPv6
APN: internet.v6.telekom
Benutzername: telekom
Passwort: tm
Nutzen Sie ein Gerät mit Android, tragen Sie bitte noch zusätzlich folgende Informationen ein:
APN Protokoll: IPv4v6
APN Roaming Protokoll: IPv4
Then, as you requested, going to the test page obtained the following result.
And just to confirm (mobile network coverage at my home is bad) I carried out a second run: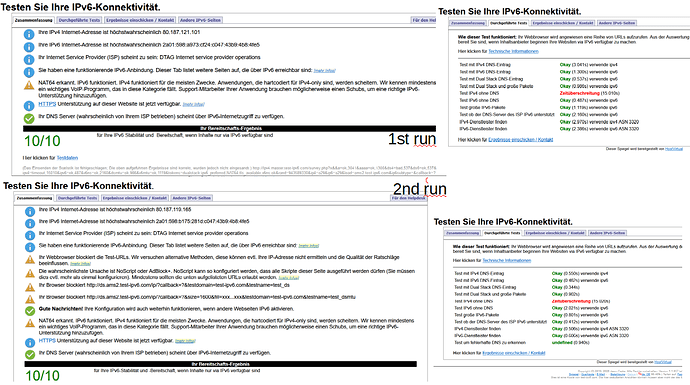 The additional warnings seem to be due to Ad-Blocker/Browser settings.
Anyway, the warning appearing in both is "NAT64…".
What is your conclusion?
Thanks and best regards
Michael