Continuing the discussion.
Hi everybody,
as adviced in other parts of the forum, I've installed "BetterBatteryStats" to monitor the battery usage. Edit2: BetterBatteryStats is still available from the F-Droid Archive repository, while upstream has become unfree.
Like @YtvwlD I had experienced a shorter lifetime of my (second, half a year old) battery.
This is the result of only two hours:
My CPU also was on the maximum of 1.21 GHz almost all the time.
Can somebody explain the screenshot to me, especially what the wakelocks mean, and if they are responsible for a shorter lifetime. If yes, recommendations on how to get rid of them, would be very much appreciated!

Cheers Stefan
PS: I'm using @chrmhoffmann's KitKat Version 0.9.4 on a FP1.
Edit1
I think I found the culprit (and I think ps means poll service):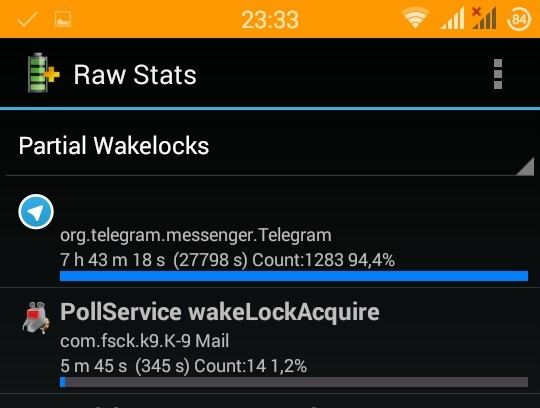 I have restricted some permissions from Telegram using XPrivacy. I will see if I can solve the problem by allowing some permissions. Does anyone know, which permission it could be?