It could be interesting to know if someone with bootloader unlocked had any update so far.
But - if I get it right - that's the patch level of @Chris_R as well, who performed an update.
So you got the phone with the actual patch level already installed.
@Desiderius77 on the other hand seems to be stuck on patch level 1. August.
And there should be an update for him, to the next level.
Of course there should be an October or maybe even a November patch; if the monthly updates would work regularly. And would a staged rollout for the monthly update really be advisable to take more than three weeks?
That is the build/patch level I have.
As I've said all along, it is possible that this build was pulled. It seems that devices are still being issued with the old build (unless I've misunderstood) which again makes me believe that the above build was pulled for whatever reason. I don't think this can be a staged rollout otherwise everyone would have received this by now. And as far as I'm aware, there has been no further update (I've checked regularly too).
All we can do is hypothesise in the absence of any official info from FP itself.
I received my FP3 4 days ago, and it also has Build 8901.2.A.0096.20191001 from September 5. If that was pulled, I'd expect the newest phones to have reverted to the previous version.
Then again, not every version that exists might result in an update. Maybe there's "Install Images" (including the latest version of the default apps) and "Update Images".
If that's the case, it could be there's a new install image for new phones more or less once a month, but new "Update images" are only deployed if a core component received a critical update that can not be installed through the App-Store. (Aka Kernel Update)
We will see

How regularly can we expect security updates? Is there any official statement concerning Android 10 yet?
I received my phone with A.0095 installed and it offered the A.0096 update after enabling wifi. I did not install the update, but unlock my bootloader first (which does a full wipe) and was offered the A.0096 update again (not installed yet).
The update also reappears after clearing the data of com.google.android.gms so I do not think the update was pulled or that unlocking has any influence on the updater.
I got the update

FP3_A.0096, so not super recent (security fix from 5 September), but at least it is not a problem with the unlocked bootloader.
There seems to be a new update, but sadly nothing major.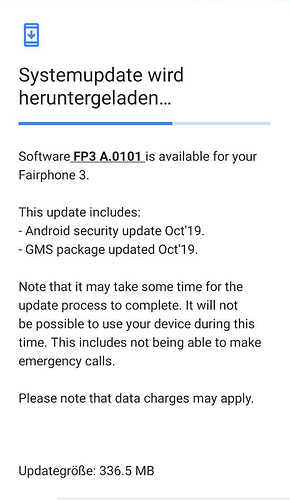 But now i suddenly have YTMusic on my phone. Any similar experiences?
Google must have added this to the updated gms package
Ho do you get updates on FP3? There's no Updater app like FP2 had
settings->system->systemupdate
i still am on 1 August. I have an unlocked bootloader also and I cannot sideload the OTA to my device either, I get this error:
Installing update...
E:Package is for source build 10011803 but expected 08161740

Installation aborted.

Edit: in recovery logs it says it verified the update and then aborted it because of the same reason, I am also on sky mobile which Chris_R mentioned.
Im in the Update top. Volte and Vowifi doesnt Work in this build.
Hi Stefan, what exactly do you mean by "doesn't work"? My FP3 is on the latest system update, is running on the "Extended LTE mode" (= VoLTE IMHO) and asking me to activate VoWiFi.
Hi, my Phone was on extended LTE too, but at the Last update is the Switch away.
I still have the switch (Settings - Network & Internet - Mobile network - Advanced - Enhanced 4G LTE Mode), and it's still enabled.
Try the following:
Dial *#*#4636#*#* to get into the "Testing" Menu.
Choose "Phone1 information" (or "Phone2 information" for SIM No. 2) and check whether "VoLTE provisioned" and "Wi-Fi Calling provisioned" are still enabled, in my understanding meaning the phone would support it if the mobile network provider and the respective tariff plan supported it, too.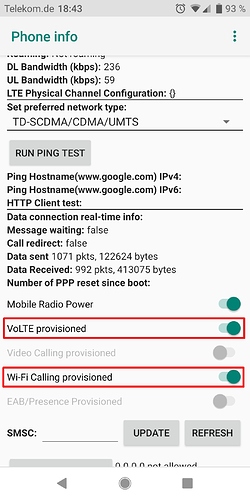 How do you check whether VoLTE doesn't work?
When i Made a call phone switched Back to edge