Do one yourself:
I live near Stgt. But let's first wait until my FP arrives.
Please note: my reservation for Tuesday was cancelled - am looking for a new place. Watch here for notification.
Yeah! Thank you for organizing!
When does it start?
@Friek I allowed myself to add the time to the topic title. Feel free to remove it once the meetup is over.
Hope, you are having a nice time!
ganz herzliche Runde - wie immer

zu meinen Notizen:
Das ging aber schnell!!! Danke Dir. Fotos folgen morgen oder übermorgen.
Hi, wie hast Du denn dort des Datum reinbekommen? Ich krieg des da nimmer raus!!
Du musst den ersten Post editieren, nicht nur den Stift Symbol neben dem Topic-Titel drücken.
Wir hatten ein schönes Meetup gestern mit 8 Teilnehmern:

(vlnr:
@gitbreaker222
, Yifeng,
@madguitar
,
@Joh
,
@Michael_Weber
,
@stefan-karg
, Oliver (sorry fürs Abschneiden))
Es wurde ein FP1 Display getauscht und
@gitbreaker222
hat Hand ans eigene Telefon gelegt um das Top-Module zu tauschen:
und ein Video für alle Schutzfolienfanatiker:
Wir haben leckere holländisch Poffers gegessen, Stuttgarter Cola getrunken und uns über Apps und die Welt unterhalten. @gitbreaker222 hat schon die Links zu den ansprochenen Themen gepostet.
Vielen Dank an alle für den schönen Abend!!! Bis bald!
So meine lieben Stuttgarter - ich würde das nächste Meeting im Juli anpeilen, an einem Do oder Freitag. Ich möchte es im Super Jami abhalten, und diese hat nur Do und Fr lange auf. Tragt euch bitte hier in den dudle ein um einen Termin zu finden.
Die neuen durchsichtigen cases sind da!!! Wer sich an einer Sammelbestellung beteiligen will, bitte bis Mittwoch 16. Mai bei mir melden.
Am 21. u. 22. Juni sind 2 Fairphone-Mitarbeiter (Tina-Marie und Marc) in Stuttgart. Vielleicht kann es ein kleines Meetup/Mittagessen geben?
http://www.faire-beschaffung.de/en/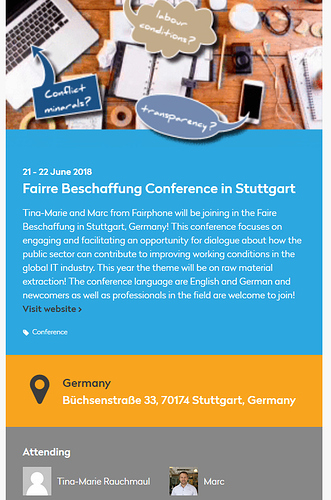 Liebe Stuttgarter, ich werde höchstwahrscheinlich etwas später eintreffen - fangt bitte ohne mich an.
Yeah!!! Heute Abend ist das nächste Meetup. Ich freue mich schon auf euch und bringe mein Ersatzteillager und Testhandys mit. Eine durchsichtige Hülle wartet noch auf einen neuen Besitzer - diese hatte ich zusätzlich bei der Sammelbestellung mit eingekauft.
Ich freu mich für euch, viel Spaß!