Hello,
A friend of mine has bought a FairPhone4 and asked me to install /e/OS on it.
I was too quick and I started unlocking phone to prepare /e/OS installation. Then I realized that latest Android security update of FairPhoneOS is from April 5th 2022, whereas /e/OS are from March 5th 2022.
So I did not install /e/OS, I only unlocked the phone.
Here are all the steps I followed:
use OEM unlock page and unlock OEM in developer options → error
update to latest FairPhoneOS and unlock OEM (in dev. options) → ok
adb reboot bootloader → ok
fastboot flashing unlock & approve → ok
fastboot flashing unlock_critical & approve → ok
I did nothing more on the phone.
At this time I double checked /e/OS version to use and viewing all these forum posts about FP4 stuck and android security updates, I decided to stop here.
Strange thing is that FairPhoneOS doesn't boot anymore ?!?


After some booting loops, following screen appears (screenshot of FP4 taken with another FP4 device

):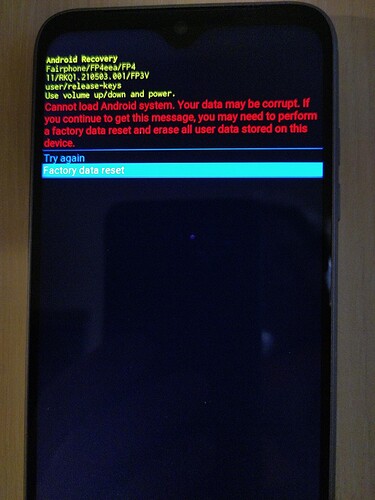 Should I go on and make factory reset ?
Was it predictable that "simple" unlock and critical unlock lead to bootloop ?
Should I open an issue ? If yes, with what kind of info inside ?
Regards,
Low Memory, too quick to unlock; too slow to double check android security updates