May gmail synchronization doesn't work. How can I import contacts in VEF-file from sd-card?
Hi and welcome to the forum. Do you mean a vcf. file? in the contacts app you should have an import option in the settings? Did you try that?
Welcome to the community

You can import contacts in .vcf-format in the Contacts app.
Open Contacts, select "Fix & manage" and select "Import from file"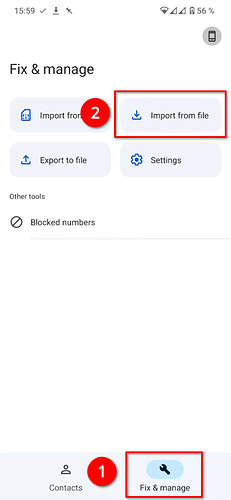 Edit: Too slow
Hello,
I add a little information about vce file and why don't work easly…
I have search and the reason it's linked to vce version file !
For android 9 and 10, past year, version 2 are used and for example, per default, thunderbird use version 4 , same for app contact on nextcloud
I have found the explaination when i have many error to export contact from android ( via app simple contact) and import it to nextcloud (before sync it via davx, i have test a backup… For test it…

)
The way on my side:
Export from android
Put in thunderbird and export it on good version and it's work on nextcloud with new vce file with good version
Here, i suppose your button fix adapt to good version for import it
The topic may have been correct as the VEF file is an HTC encrypted contacts format.
File extension vef is nowadays mostly known to be associated with a special backup file generated with contacts backup function on certain HTC devices.
Thanks, I even asked the internet and didn't see this, my bad.
Happily edited once again.
@Ralf_Alexander_Deren: Can you confirm you really are dealing with VEF?
Interesting, didn't know those existed

I just noticed some typos and assumed VEF was one as well, but we all know what happens if you assume something…
The only (real world) references to .vef I could find is a question at Android Stack Exchange and a very short thread at XDA, both over 6 years old.
They suggest importing the .vef-file in the Google Contacts web version using a PC. If we are actually talking about a .vef-file, maybe this way still works

If you look at my posts you see lots of those
I usually edit my posts many times after posting.
This topic was automatically closed 180 days after the last reply. New replies are no longer allowed.