Latest available standard channel versions of all software mentioned.
I usually use Firefox on my home PC but I've just been driven to move to Vivaldi, just for forum.fairphone.com. The problem doesn't happen with another browser, nor with other Discourse sites I've tried. But at the moment using Firefox is impossible, it drives the cooling ventilator crazy and I can do without unnecessary heating right now anyway
It just takes one page from the forum to do this, can even be in a tab that's not displayed, in a window that does not have focus and is minimized. Totally reproducible at will: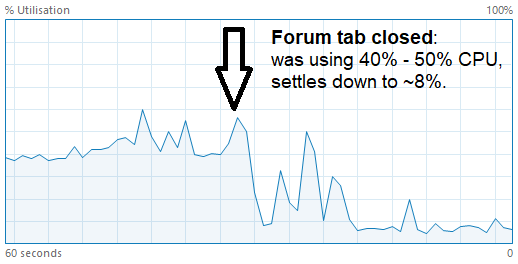 While doing those graphs I also had pages open on various other sites including two other discourse fora.
Things quieten down again after a minute or so, but it starts again as soon as I load a different page, or move about in the same one.
Anyone else seeing this? Quite recent I think, last week or so?
---
EDIT: It turned out I had quite a large stash of site data:


After deleting it, things seem to be better

I'll confirm.