For some months now, I have got a very curious problem with my contacts. I was not able to find anything related on the internet yet.
When I create a new contact, it is saved under a seemingly random "gibberish" name, which makes it very difficult to find and handle.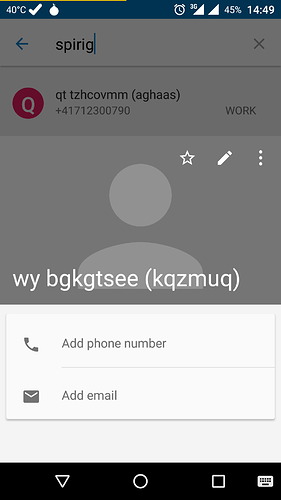 Some examples:
"test" becomes "nwwj"
"Test" also becomes "nwwj"
"tests" becomes "vkjim"
"new test" becomes "hpv nwwj"
"test new" becomes "nwwy hpv"
"test 0" becomes "nwwj 8"
"test 1" becomes "nwwj 4"
"test0" becomes "zaix0"
"test1" becomes "yitj0"
I fail to see a pattern except for:
* the number of letters and numerals remains the same
* uppercase is ignored
Things become even more curious:
When using a different keyboard (literatim or an external bluetooth keyboard) instead of AOSP), I am getting different patterns ("test" becoming "komz")
When searching the contacts app for "test", my contacts containing "nwwj", "vkjim", "zaix0", "komz" etc. are listed. There are no findings when searching for "nwwj".
Opening such a contact shows a contact with a different (!) gibberish name (for example "izgg" for "nwwj") and no contact info (no phone number etc.)
In the phone app, when using the number dial, the contacts are only found when their gibberish code is dialled ("6995" for "nwwj"). They can't be called from here.
When using the top search bar, entering "test" again lists "nwwj", "vkjim", etc. Contacts can be called and show the proper name during the call.
Before I deleted the contacts database, contacts sometimes behaved "normal". They could usually be edited, but only when finding them from the search bar in the phone app.
Also before deleting the database, calling a contact from the number dial would call a completely unrelated contact.
Some more facts:
Existing contacts are showed correctly, but are not editable anymore.
Renaming existing (until now well-behaving) contacts causes the same problems.
Deleting the contact database didn't help. Even when creating new contacts in an empty (reset) contact database, the gibberish occurs.
Contact editing works from external apps like WhatsApp and Threema.
I am running FP Open 17.12.1.
Any hints or ideas are welcome.