I made the same experience
I just found it at calyxOS.
A fix for the gcam ports and preview not working.
Runs great and the preview of the current and not the penultimate image is displayed.
Since it comes from calyx and the source code is freely accessible, I classify the apk file safe.
Thanks for the GCam suggestion. Losing the wide angle and 48mpx mode does however seem a very high price to pay simply to be able to replicate what's actually seen rather than an acid trip version (allegedly)


I'll try to disable HDR 1st…

Next to the often mentioned Wichaya, BSG and Arnova it's worthy to try "greatness".
Correct me if I'm wrong, but it's the only one with a sunset mode.
Everything else should be basicly the same to Wichaya. (maybe greatness isn't that stable)
(Oh and Wichaya didn't show the astrophotography mode correctly… Wich maybe don't work correctly anyway? Does it really work for someone?..)
Normal mode: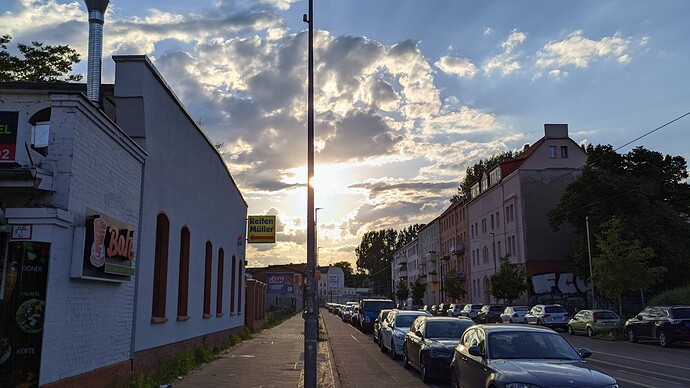 With sunset mode: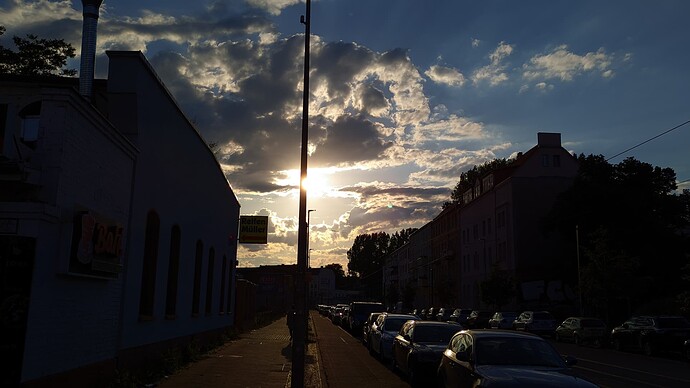 Also works with streetlights in the night.
Discussion reg. Astrophotography
Hündleskopfhütte, well well, I hope you tried the excellent Kaiserschmarrn

Käsespätzle and Radler

Sadly, this does not work for me. I always get the error message "App wurde nicht installiert" (App wasn't installed).
Did you uninstall Google Photos before trying to install it?

The app has the same package name as Google Photos, that's why it works, but that also means both can't be installed at the same time
Yes, I have. When running the apk, it does not ask me if I want to update an existing app.
Hmmm

Could you try adb install GCamPhotosPreview-1.apk, I just tried it again and that works for me.
Vielleicht über ADB Commando deinstallieren
adb shell pm uninstall --user 0 PACKAGE
That's not enough, that only "uninstalls" it for the main user, you need com.google.android.apps.photos completely gone.
so you need root for this, because ?
 That's why, if you omit the –user 0 and -k part of the uninstall command, the command won't work. These two flags respectively specify the system app will only be uninstalled for the current user (and not all users, which is something that requires root access) and that the cache/data of the system application will be preserved (which can't be removed without root). 


Yes you need root to uninstall or overlay it with Magisk, or a custom ROM without GMS.
But you can also use something like Shelter to create a Work Profile, copy over the FPCamera (or GCam in this case) and install the GCamPhotosPreview in there, just tried it and that works

Edit: But make sure you have a way to get the photos out of there:
I'd set up a Syncthing backup just in case!
on the FP3 I just use an older GCam Port (Version 7.4) , because on my FP3 v8… slows down the whole device, I dont see any benefit reg. quality and with v7.4 I still have the preview using a third party gallery…
Das habe ich mir bereits gedacht. Das es komplett weg muss und nicht nur im User-Kontext.
Da ich den calyx Fork ja auf meinem iodé nutze hatte ich damit nicht die Probleme.
Ok, I see. I only uninstalled for the user and don't think that I want to try that shelter thingy. So I'll return to my previous solution of a Google Photos that is blocked by firewall.
Or changing the OS, what may result in peace and happiness