Did you check the APN are correctly entered?
I can double check but yes I did.
Most (if not all) people in the US are using Lineage OS and not the stock ROM. What ROM are you using?
stock rom /e/OS on a Murena Fairphone 4
Hi, folks;
I'm starting this conversation a little early, as I have only just pre-ordered my first FP, and am not totally confident it is going to deliver promptly or without problems, BUT…
I had a glance at a little map on this site somewhere showing FairPhone users, or maybe angels, by location; I was a bit surprised to only see two in all of North America.
If there are more than a small handful in or around the Seattle area, I'm wondering if there would be any value to trying to get a little bit of a community going, and possibly raise the phone's visibility a tiny bit.
I looked around some for venues that might be appropriate for ad-hoc repair or support, ended up contacting someone at the county solid waste division, and ended up with a decent list of things like maker spaces around the city center. My thought was that even just a couple folks could try to show up to something like that around a specific time, and just see what comes of it.
I'm not going to build anything just on my own, but maybe there's more owners nearby than it feels like. Thoughts?
And those in north america are both in Canada so go for it

Which operator are you using?
Hey, I use a FP4 with AT&T. It mostly works. You have to check a box in settings before phone calls can be made though!
settings → network and internet → select your att account → Switch on "4G Calling" - "use 4G services to improve voice calls."
However, I can't get wifi calling to work for me. I can switch on wifi calling (same window where you switch on 4g calling)! But then it never activates. Which I would really like, because I live in Europe and would like to call friends and family over WIFI. Has anyone gotten wifi calling to actually work with AT&T?
Is this an ATT SIM card with FP4, or traveling and connecting to ATT
I think it helps to add the OS you are using, as it might be different depending on the system installed. You might have read above that ATT wasnt working well in the past with FPOS.
@nereocystis - ATT sim card and esim (tried both). I currently have an ATT esim and a european physical sim. I tested the ATT sim both when traveling in Europe and connected to ATT network in the US. I made sure to use my ATT sim for the first time in the US so it would register to the network as properly as possible. The ATT sim is as functional in Europe as in the US though. Calls, texts, international plans all behave fine. No wifi calling.
@yvmuell - Fair, I am using the stock OS. I did read previous comments about ATT. But, honestly, ATT overall works just fine outside of this wifi calling issue. Most of the issues they had were with not being able to make calls which is fixed by changing the setting I mentioned. I am inclined to blame ATT because I actually have an unlocked Samsung Galaxy S21 FE 5G dual sim (a model that is technically approved by ATT even) that has the same exact problem with ATT. The root of the issue is that the IMEI can't register with the account and so wifi calling wont work. I've even been to ATT multiple times with the Samsung phone and they're stumped and try to blame Samsung for giving me a faulty phone (which is BS). I don't even ask with the Fairphone because they just tell me it's an unsupported phone and I should be glad it's working as much as it is.
But, i still thought I would ask the forum in case anyone had found the miracle cure to getting wifi calling to work. I got a tip on another forum that ATT sim cards black list most phones not purchased through ATT. But, if you purchase an ATT MVNO sim, these ones are less restrictive and might work with non ATT model phones. I have not tried this and have no clue how reliable it is. Also, seems pretty inconvenient and not really an ATT plan.
I'm currently using a OnePlus 6 running LineageOS on Consumer Cellular, an ATT MVNO. Wifi calling no longer works for me, though it works for my wife's iPhone. I noticed this problem after receiving new SIM card from Consumer Cellular. I don't use wifi calling enough to be sure that the new SIM card broke wifi calling, but I have suspicions.
Wifi calling is turned on, both phone and Consumer Cellular
And now I own a Fairphone 5, currently in UK, but headed back to US soon.
If I set phone to airplane mode, then turn on WiFi, I cannot call, on either ATT card (roaming to UK) or my O2 UK eSIM card. This used to be a good test for WiFi calling. Perhaps it isn't now.
I have received and sent ATT text messages, using EE for roaming. I have received (and I think called) via the ATT SIM (as well as the O2 eSIM).
I found that T-Mobile or Mint Mobile is the currently the only carriers that support GSM phones. AT&T hasn't worked in my area when I first got the phone. Just FYI. I live in the states. And have been a happy owner of the FarePhone 4 for months as my daily driver. Hope this helps get your phone online.
I returned to the USA and my Fairphone 5 is working fine on AT&T MVNO Consumer Cellular.
I started using the phone on my recent trip to the UK, where I purchased the phone. Mostly, I used a local eSIM card, but the ATT SIM card worked there, and continued to work on my return to the USA on 8 October.
The only question is whether wifi calling is working. I think that it is, since I did not get very much billing for International roaming in the UK.
But there is no evidence on the phone that I am using wifi when I call. And I still cannot make calls when setting phone to airplane mode and turning on wifi.
If you can't make calls when setting the phone to airplane mode and turning on wifi, that tells me that wifi calling is NOT working. Doing that does work for me on T-Mobile. (I will add, however, that I'm not using the stock ROM. I'm using Lineage.)
@2allseew I agree that I expect airplane mode on and wifi on to allow wifi calling, though my billing in UK suggests that I used wifi texting/calling
We had 3 lines, mine, mostly FP5, and 2 iPhones.
We were billed for 8 international text messages. I used much more than 8 messages, mostly while on wifi.
I do see billing for international calling, however.
My previous phone also stopped working with wifi calling sometime after I received a new SIM card from Consumer Cellular.
One more point.
The error message I receive when trying to wifi call is incorrect and misleading.
"Turn off airplane mode or connect to a wireless network to make a call."
Since I am a wireless network, the error message is inappropriate.
##4636## shows "WiFi Calling Provisioned"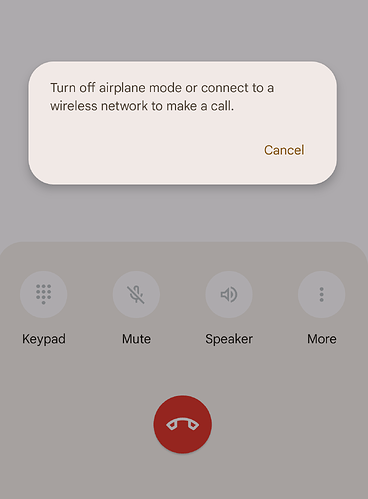 Thanks for DPs about FP5 in US and keep them coming!