Perhaps I did not make it clear, Biowaves has officially confirmed working on cases for FP5
yes it says so on the website. 'coming soon - Fairphone 5 Case'
In my requirements I have fair, FP5 and transparent, that's why I'll keep an eye on the second one, just in case there will be something in their FP5 fair covers that will also be transparent.
EDIT: I've just written asking them if they will also sell transparent covers for FP5. I'll let you know…
re. the drop tests, I believe FP4 was the first one which was tested and conforms to a spec (MIL-810G in that case). MIL-810H is supposedly more tough (no longer dropping on plywood over concrete, now it's supposedly steel over concrete). For FP4 there was no drop distance specified, 1.5 and 1.8m seems like quite a reasonable drop distance. I think we may be fairly sure that the FP5 will be able to stand some abuse.
Not that I'm likely to try and attempt to use it as a hammer like I did with my trusty old Nokia 3210…
Here's what I found about the drop test 'standards':
IEC 60068-2-31 | Keystone Compliance (I think the 60058 was a typo, all references I find to it are all FP5 related)
RuggedPCReview Blog (MIL-810H: steel over concrete)
I have the green biowaves case for the FP4. They are hard bio plastics and very snug. So getting the phone out again takes quite some effort. Good thing is, you won't have to fear that the phone could fall out the case, like it can happen with the official one. But they are also very smooth, a little too smooth for my taste. Happens that the phone slips off my hand, or easily slides on smooth surfaces. Apart from that, I actually like the design and that they conceal and protect the camera bump.
So if you want fair cases for the FP4 you can choose between the official very loose but rubbery and flexible, or the biowaves very snug and slippery hard plastic. I don't like either unfortunately. I liked the official one in the beginning when it fit better, but it wore out quickly and now doesn't fit right anymore.
I would hope for the official FP5 case, that they figured this out and that the cases keep their form longer and fit the phone better.
I recieved the FP5 today, including the original TPU case. The case does not protect the front like it did on the FP3. It is really underwhealming: the border next to the screen barely touches the front and is very very easily pushed away with a light finger press. I think in a fall the case will bend away and not really protect. It also obstructs the fingerprint sensor if you have bigger fingers like me. So the case is an expensive but only half-usable case. I'm dissapointed with it. I'll try to post pictures tomorrow.
thanks for the review of the case, I'd like to see those pics. Sad that the official cases for FP3, FP4 and apparently FP5 too are all quite underwhelming (my FP3 case 'grew' loose, apparently the FP4 one does it still, and the FP5 is loose from the start

no thanks. I think FP should partner up with a reputable case maker like Pela.
How's the FP5, @Garijs ? Yours seems to be the first one 'in the wild'

Clearly. That's a pass for me
Hi,
New fairphone 5 Owner here.
I've also ordered the great transluscid version so I'd rather not use an opaque color case.
From what i've understood, no manufacturer does clear cases just yet? Or Belsimpel does @Meaghan ? Did you receive yours?
Comming from a OnePlus 8T, that's kind of a bummer that the accessories market for fairphones is a bit slow to react. I used to order Spigen cases for my previous cases but they don't make cases for fairphones.
Cheers !
Hello,
I have ordered a sky-blue option which was marked as one with the longest waiting time, so at the moment I don't have a phone nor the case yet.
Will be happy to report once I have them.
Belsimpel suggested 3 October as the ETA for the case.
In my case, I acquired a fitBag sleeve. You specify the phone model while ordering it, so it fits perfectly. It protects the phone and its screen while I store it in a pocker or a fanny bag and allows me to use it bare. I also use it as a small mat while putting the phone on a table.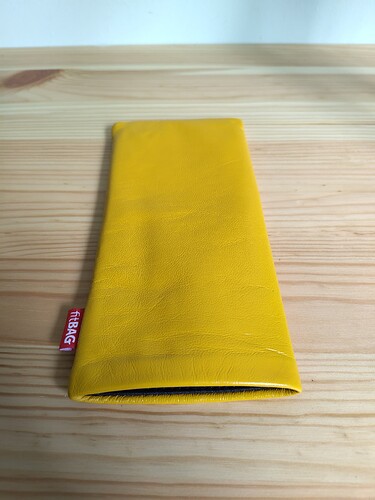 I bought it directly from their webpage: Custom tailored phone tablet and laptop sleeves
The left one is not a original FP5 Case, isn´t it? Because if I go to the shop of FP you only find a green, a black and a ligh blue version.
At the moment I have put the FP5 in a case of an FP4 and it is more protected than yours on the left side. I am waiting for my FP5 Case after this I could give also a feedback on this.
When you look at this video black isnt deep black so I guess it is the original case
That's how my phone is protected, too, but by a sleeve from Flat Design:
Worked well for my FP2 for about 3 years, now it has some holes and got a bit smaller at the upper end, but the phone looks almost as new - and this is what I expect for my FP5 with such a sleeve, too.
Hmmm… I actually have an idea. I could modify my Fairphone socks to use it as protective sleeve - what do you think?



Perfect! Until the sleeve for my new phone will have arrived I'm using a glove. I'm optimistic that the actual sleeve will free up the glove before temperatures require me to use it
Not sure how relevant that is as phone pouches/sleeves are not difficult to find (even customised ones), not to mention socks and/or gloves

but there is a lady in Portugal who also does that, and I find her products pretty cute
Finally, there is one extra store planning to deliver dedicated FP5 cases, and FP4 ones got a good review here
The store got the dimensions for FP5 totally off though