Ok, I will wait to hear. Good luck!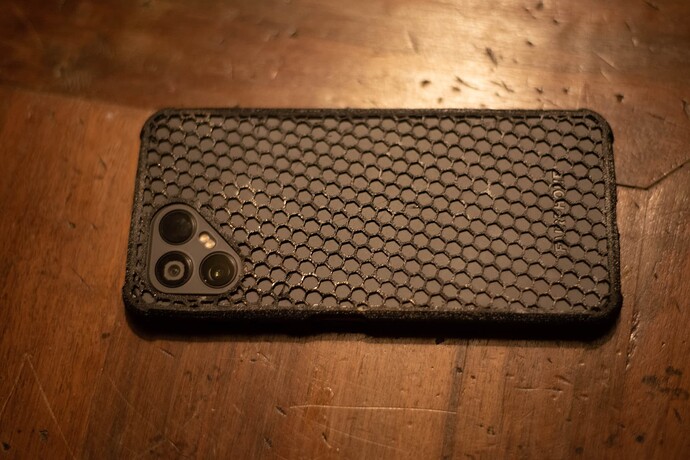 Ok, the model is good enough for me for the moment.
a bit more overlap in the top would be great
I have printed it in TPU, no bottom / top layer, infill hexa, 15 %
110% Z axis
I think i beed to dry my filament, but should do the trick for now.
I will send you the modified step file in MP, feel free to publish it wherever you want.
@Paperpilot @Warc
The prints of the case look really nice


I hope to get my FP4 before X-mas. Around X-mas I am at a friends house who has a 3D printer and would like to print your model and the modifications w/ his help. He is using Fusion360 as well. If it is no problem, can I get the files as well? As I wrote earlier in this thread, I am thinking of printing a dual layer case (the inner layer of TPU and the outer layer of PETG).
I hope it is not a problem to modify the files to fit that.
Regarding the modified file by @Warc , I consider it to be theirs, due to the work they did to improve it and, you know, actually make it fit.

So whatever Warc decides is up to them.
On my part, I have been too busy to do further work, and have decided to wait until I have my own Fairphone next week. I have some ideas I want to implement, but I can't promise anything. But I will release my versions if they fit.
I don't know if it helps, but my experience with the original case of the FP4 is that the fingerprint sensor is much harder to reach as without the cover. For your own version you might want to try if having more space around it (on the Y axis of the device) would make unlocking with fingerprint easier. Or maybe also make the case thinner there? But of course it would make the sensor more vulnerable to damage.
Hello,
@Discostu36 In my version there is a large clearance for this spot.
As shown on previous pictures.
I have uploadeds it on thingyverse (F3D / STL / 3mf)
FairPhone 4 case and dummy by nainno - Thingiverse
Feel free to make it better, but publish it afterward and share with the community.
And, don't sell those

(I will print another un deep blue TPU filament just because Kimya Deep blue is gorgeous as phone case.)
Bye
Because the FP4 has about the same dimensions as the Samsung Galaxy S21+, you could look for generic cases that fit the Samsung. I use a leather pouch and it fits like a glove.
FP4 ~~ (162 x 75.5 x 10.5)
S21+ ~ (161.5 x 75.6 x 7.8)
Thank you for uploading the files


I have no intentions of selling it and I will upload
my improvements once I have done them

I am also looking forward to your design

Until then

I just customized a case for a different type phone with similar dimensions and camera positions, ripped out the plastic holder and stuck the Fairphone casing in it's place with double sided sticky tape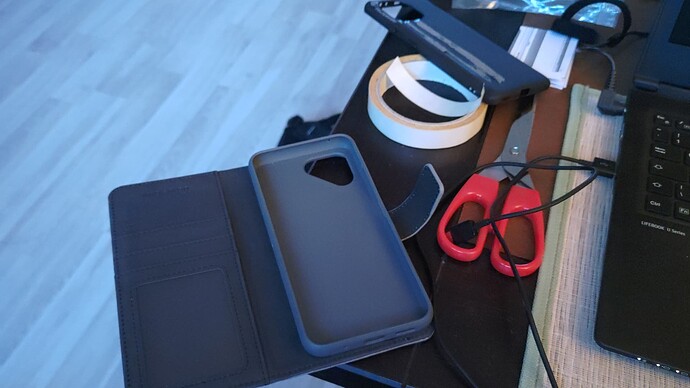 It works.
For good measure, here is the camera side
Lugging it around for the first day today, I am fully content with this solution. The grey case with the grey booklet and the green model has a very pleasant aesthetic, and the grey casing is sturdier/more protective than any of the rubber holders that normally come in such booklets. So yeah, customizing successful.
@urs_lesse Thank you very much!!


I'm glad to say that I have a completely redone case.


I made a new dummy model that's less fragile to changes and uses actual measurements from my phone.
Then using that I made a 2mm thick TPU case that pokes out past the screen and has covered volume buttons.
Of course, the thickness can be modified.
I uploaded it to thingiverse:
You may of course modify it if you publish the modifications.

The next thing I want to do is make a derivative that consists of two pieces: an inner TPU case and a hard outer bumper made of PLA+ covering the edges.
But first I will see if I can make the entire TPU case except for the corners a little thinner. All the airbag protection with less bulk! DONE!

Old plain case
New bumper corner case
Edit 18/12/21: Changed the picture to a newer print, and added a bit to my future plans. Removed the part about "small location mistakes", as I don't see any with a properly fitted print.

Edit 22/12/21: Added new case derivative with protuding bumper corners. I've made a hard PLA edge piece for the bumper corner case, but it's crude and not ready to publish. You can request it if you want it.
I'm planning to buy a FP4. However, I don't like the offered colours, the offered case colours neither. Does anyone know a sustainable alternative? Preferably in the "traditional" blue Fairphone colour?
Alternatively I'm searching data for a 3D print.
And the very best would be a phone chain (again also 3D print data possible).
Example:
Looking forward to the community's ideas

@AMO moved you post to this existing thread.
What case is that, what kind of sticky tape did ya use, and hows it holding up a month in?
It's holding up perfectly fine, thanks. Wouldn't know it was customized, though the phone is quite thick and the case if for a Xiaomi Mi 11 (14 euro case) which is quite thinner. So it holds like a case with some extra cards and such fitted it. The tape is generic, there's nothing special about it. I think I used versus.com to find phones with similar dimensions and camera placement and a dutcb vendor for suitable booklet case to it.