Hi everyone,
We wanted to replace the screen of the fairphone 4. While doing so, we took out 6/8 screws that correspond with the bumps on the other side of the screen. We forgot to take out the remaining 2 screws. While pulling of the screen, the 2 bumps of the screen broke off (because the 2 screws were still in). Now the 2 bumps and corresponding screws are still stuck in the frame, which disables us to place the new screen. As if it couldn't get any worse, we stupidly dulled the 2 screws, and there is really no way of getting them out. We tried the techniques with tape and a rubber band but this didn't help. Now it's up to a point where the screws aren't even recognizable as screws anymore (:
Hopefully I have explained it clear enough. See pictures for reference.
Does anyone of you have any tips to resolve this issue, or do we need to send in the phone for repair?
Thanks in advance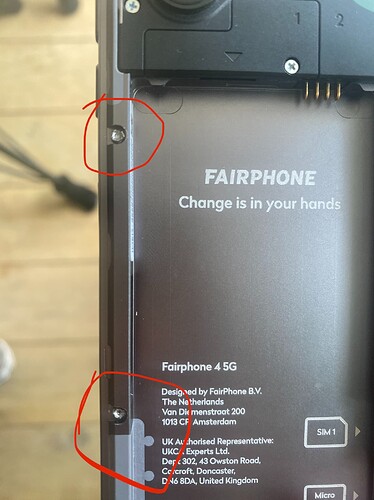 PS, I am only allowed to upload 1 media file? I have more.