Hello all,
since the beginning of this year I am a proud owner of a Fairphone 4. But since April i no longer get any Software Updates.
Currently I am stuck on Build FP4.FP3T.A.107.20220316 which was released early April. Since then two new Updates came out. I don't really care about the Bug fixes since everything seems to run fine but the "Security Patch Level 5th of March, 2022" doesn't really look that secure over 3 Months later.
Two screenshots of Build number and Software update Screen: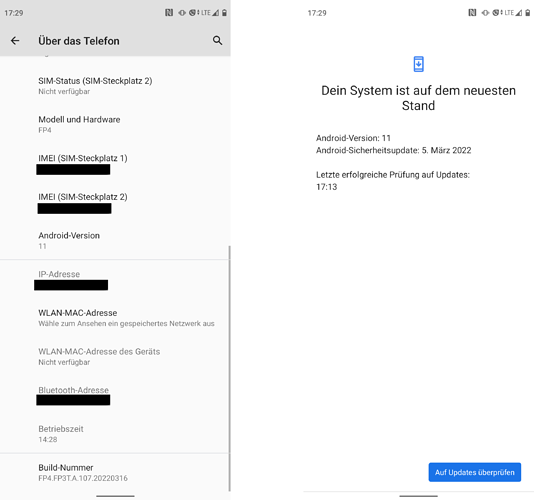 Somewhere I read that the Carrier has to green-light software updates for my phone, so I contacted my Mobile Service Provider. They told me the following:
"The providers do cooperate with the manufacturers on the firmware, e.g. by passing on suggestions for changes or adjustments, but they do not have any authority to act on this. Only the manufacturer can release the firmware."
Has anyone had similar experiences? Any other ideas that might resolve this issue?
I considered trying to install the update manually following the Offline install guide, but I don't want to lose all my data or accidentally brick my phone… so this would be the absolute last measure.
Thanks.