Hi, I've been seeing these warnings lately when hiking with the phone outdoors. The temperatures never dropped significantly under 0 °C.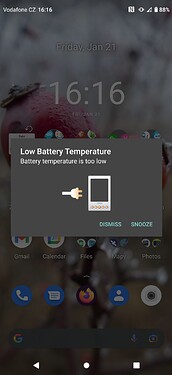 I was trying to find some environmental ratings for FP4 that would specify what is the operating temperature range, but haven't found any (I looked at the eshop page). Has anyone found these details?
And what is the behavior of the phone with this warning displayed? Is it only a warning telling me the battery doesn't like the temperature, or is there a premature shutdown/lockdown to save the phone? And can't the phone turn on one of its pretty efficient heaters to heat up the battery?