I went into a T-Mobile shop in Austria and asked them if they still sell the Fairphone 2. The employee there told me that he knows of one piece in another T-Mobile store but did not sound very optimistic he would have in his store anytime soon.
Then I went on to a Saturn shop and asked them, if and when Fairphone 2 would be available. I was told "in a couple of weeks".
I started an online chat with T-Mobile Austria and asked them the same question. Here is the protocol of the chat: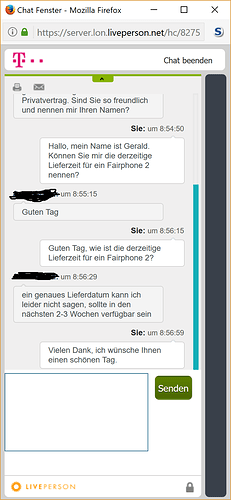 They basically told me the same information like the guy at Saturn.
The "pre-order now" page at fairphone.com states: "Based on demand, new Fairphone 2 orders will be delivered by September 1."
What does that mean? Do you think I would be better of if I wait until either T-Mobile or Saturn sell Fairphone 2 in their stores in Austria in June or should I order it at fairphone.com and wait until it will be delivered in September?