The plugin below allows to check the context of forum posts. This means that just a swear word would not trigger it, the context really matters. For example I f'ing love you guys would not be automatically flagged. However, the post below would (if the threshold is set to 75% toxicity) and the user would get a warning before posting it, with a suggestion to change the post.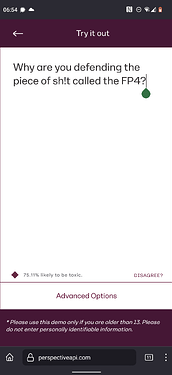 It's possible to customize the thresholds. My suggestion would be to check with the internal privacy team if this is something that the current FP privacy statement covers or not. And then my suggestion would be to not include DMs, only the public posted messages, since Google can already see/index those anyway.
This plugin would likely make the life of mods easier and make the posts on this forum less toxic. There may be a limit in the free use of this API, for my own forum it's not an issue, because I don't have many users. But maybe this forum will hit its free use limit (if there is any).
The API can be used free of cost, here are the API Reference docs.