Hello,
I've been a bit slow in moving from my old phone onto my FP2. A few 'minor' (but vital to me), things are holding me back, one of them is a suitable Japanese keyboard. Out of the box, I got the options choosing between the English (UK - Android AOSP) keyboard, or the Japanese IME.
Unfortunately for me, I'm used to having a Japanese keyboard with the western alphabet. So, to type "taberu" (eat), I would have to type those six keys, once each. But the bundled Japanese IME has just 12 keys, meaning some keys have to be pressed quite a few times, just to produce one specific Japanese character.
Sounds confusing? I'll take a screenshot with my FP2, and my old phone (Sammy Note II). That should hopefully illustrate things better.
Screenshot from the Note II: (Western keyboard layout)
FP2 12 key, keyboard: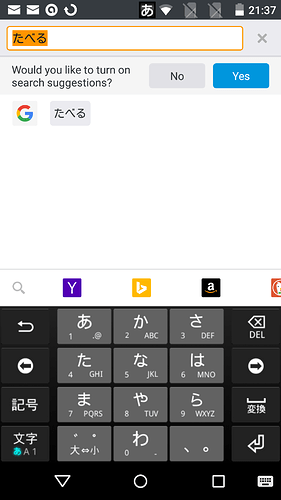 PS. I can remember some time ago (before Android OS 4.some.thing…), getting a decent Japanese keyboard meant downloading it separately through a friendly Appstore. But with more recent updates to the OS, the built in keyboard became so good that hassle was eliminated.
– EDIT: Added photos, and text at bottom of this post –